As part of a global supply chain logistics course, business students from Appalachian State University are experiencing the tourism supply chain in Thailand this month.
Drawing upon a Walker College relationship with Burapha University, the students are exploring the tourism industry, experiencing culture and learning how global brands implement marketing strategies and global sourcing practices in Thailand. Through company and site visits in Thailand, these students will return to the states with a better understanding of the international challenges and opportunities associated with doing business in a global context, including effective interpersonal strategies for communication in business and social etiquette, negotiating practices, and relationship and teambuilding, among others.
The January 5-14 trip was led by information systems and supply chain professor Charlie Chen and graduate programs advisor Kim Kirby.
View a the students' photos on Facebook.
About Walker College Study Abroad Programs
The Walker College incorporates a global orientation as an integral component of students' academic experience. With university partnerships across the globe and continuous expansion of ground-breaking opportunities in emerging markets, the Walker College continues to add new program destinations each year. All business students fulfill an international requirement, and an increasing number choose to study abroad through a wide variety of exchange programs. Nearly 25% of Walker College graduates participated in international study abroad educational opportunities while at Appalachian. Opportunities also exist for alumni to travel with Appalachian delegations. For more information on traveling abroad with the Walker College, visit business.appstate.edu/international.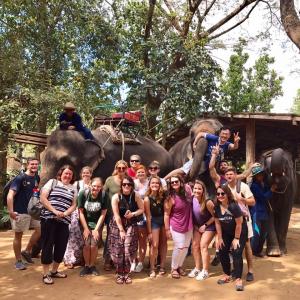 Tags: