Appalachian's IIANC Professor of Insurance David Marlett and Walker College Employer Relations Coordinator Emily Marlett led a group of ten students on a study abroad trip to Bermuda on May 12-19. The travel was part of the FIN 4800 International Insurance Markets class. While in Bermuda, the students learned about reinsurance markets, risk models, and the regulatory system.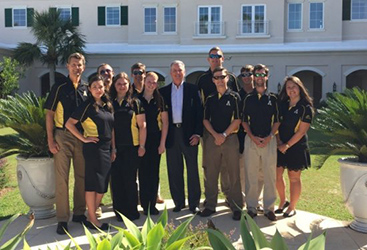 The group met with Dennis Crosby '80, Executive Vice President of OneBeacon Insurance Group, who shared insightful career and professional advice with the students; Chris Dart, Senior Vice President of Guy Carpenter, who discussed his role as a reinsurance broker and the intricacies of the Bermuda market; and JRG Reinsurance Company's President Dennis R. Johnson and Vice President of Underwriting Daniel Heinlein '07. JRG Reinsurance provided logistical and financial support to the program.
Pictured: Dennis Crosby, center, with Marlett, left, and Appalachian RMI students in Bermuda.
"We were delighted with the opportunity to support and host the Bermuda International Insurance Class," said Heinlein. "The trip provides the student with the unique experience to witness the Bermuda market first hand, and hopefully piques their interest in international insurance and reinsurance careers."
The group also visited the XL Caitlin building, the Bermuda Association of Insurers and Reinsurers, the Bermuda Monetary Authority, the Bermuda Insurance Institute, and the Bermuda CPCU chapter site as a means to grow their knowledge of the industry.
"The trip furthered my knowledge of reinsurance and Bermuda as a captive domicile," said student participant David Rabb. "I learned about regulation differences between the US and Bermuda, the creation of ACE and the Bermuda form, and from networking with the professionals."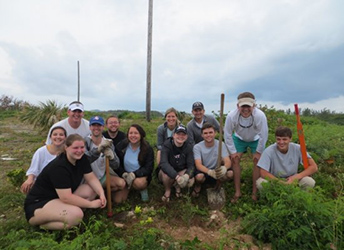 The activities were supported through contributions from current and past Brantley Risk & Insurance Center Board members along with the Georgia Surplus Lines Association, and Appalachian State alumni.
"It was great getting to apply what we learned in the International Insurance Markets class to real world experiences in Bermuda," said student participant Stephen Dorenbusch. "The reinsurance market is a very fascinating facet of the insurance industry. This was a trip of a lifetime, and I'm very grateful to all who helped make it possible."
Pictured: Appalachian students participated in a BIOS sustainability project that involved culling of invasive species and planting two endemic Cedar trees.
Appalachian in BermudaWhile in Bermuda, the students also participated in sustainability projects through the Bermuda Institute of Ocean Sciences (BIOS).