On Wednesday, January 31, Appalachian State University's International Business Student Association (IBSA) kicked off the new semester with their International Student Welcome Dinner, an event created to help welcome new international students and give them a chance to meet with other students interested in making international connections. The event had a record number of attendees, including students from Japan, Pakistan, Belgium, France, Chile, South Korea and other nations. Attendees shared a meal and participated in games where they had the opportunity to connect with like-minded students.
Approximately 20 business majors come to Boone as exchange students each semester to take courses in the Walker College of Business. From every corner of the globe, students use their knowledge and draw from experiences that provide a unique perspective, helping to educate others about the changing world around us.
"It is hugely satisfying to see how the international and local students enjoy interacting with one another," said Dr. Martin Meznar, Associate Dean for Global and Civic Engagement. "I can only imagine the possibilities that such engagement creates for all the students involved as they look to establish new friendships, consider new ideas, and explore future career options."
The event is open to all students, and the next welcome dinner is planned for the beginning of the 2018 fall semester. For more information on this and other Walker College of Business international events, contact Meredith Church Pipes, cobinternational@appstate.edu.
About the International Business Student Association
The purpose of the International Business Student Association is to expand student knowledge of global business and awareness of international issues and to serve as ambassadors of the Walker College of Business International Programs and International Business within the university community. The club meets every other Wednesday from 6-7:00 pm. Students interested in becoming members can contact club officers at ibsa@appstate.edu.
About Walker College of Business International Programs
The Walker College of Business encourages students to study or intern abroad and provides resources to help students find the right fit with their academic interests. Business faculty lead a variety of short-term international programs designed to develop international business skills and intercultural knowledge. These faculty-led programs have proven to be invaluable for many students. Scholarships are available. Fluency in a second language is not required and students can earn credit toward their degree. For more information, visit www.international.business.appstate.edu.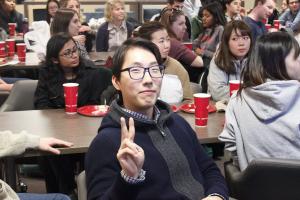 Tags: