Appalachian State University's Beta Alpha Psi (BAP) chapter has achieved Superior Status for the 2017-18 academic year. This achievement will mark the 36th year that the university has received the honor.
"Recognition as a Superior Chapter is a significant accomplishment," said Beta Alpha Psi 2018-19 President Alexandra L. Miller. "Under the leadership of Professor Tracy Reed, the Epsilon Kappa Chapter has far exceeded the baseline requirements of Beta Alpha Psi and has excelled in the areas of academics, professionalism, and leadership. As Faculty Advisor for the chapter, Professor Reed has provided an invaluable service to your academic institution."
In August, Reed traveled to Washington, D.C. with seven Appalachian BAP members, Savannah Graepel, Kaleigh Cecil, Ryan Myers, Derek McCann, Alexis Selby, Brad Coyote, and Elizabeth Belham. While traveling, they visited the Capitol building and posed for a picture in front of the White House with neighboring University of North Carolina at Charlotte chapter members.
Related: Appalachian's Beta Alpha Psi chapter earns superior status from international organization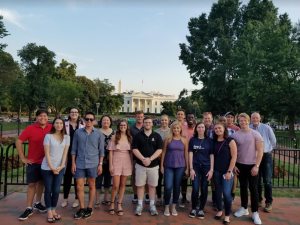 Tags: