Appalachian State University's Department of Economics is in the top five percent overall and the top five percent worldwide for experimental, cognitive and behavioral, and environmental economics, according to the Economics Departments, Institutes and Research Centers (EDIRC) index.
The overall ranking, as of December 2018, places Appalachian as 370th among 14,251 in 232 countries and territories worldwide.
Appalachian is #35 on the list of environmental economics, listed among 2675 institutions.
For cognitive and behavioral economics, there are 1868 institutions listed, and Appalachian is #56 on the list.
Appalachian is #95 on the list for experimental economics, listed among 1913 institutions.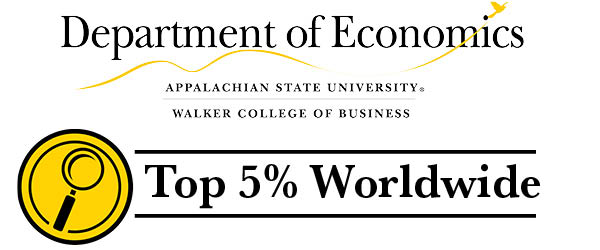 The EDIRC is maintained by the Economic Research Department for the Federal Reserve Bank of St. Louis and indexes the top economics departments, institutes and research centers in the world. The index, cataloged by Federal Reserve Assistant Vice President Christian Zimmerman, includes programs within universities, as well as finance ministries, statistical offices, central banks, think tanks, and other non-profit institutions where mainly economists are working.
The EDIRC index is endorsed by Research Papers in Economics (RePEc), a collaborative effort of hundreds of volunteers in 99 countries to enhance the dissemination of research in Economics and related sciences. The heart of the project is a decentralized bibliographic database of working papers, journal articles, books, books chapters and software components.
About the Department of Economics at Appalachian State University
The Department of Economics in Appalachian State University's Walker College of Business is an intellectually vibrant place for students and faculty. As a research-intensive department committed to student learning, the department offers a wide range of courses that provide critical-thinking and problem-solving skills, complemented by student-faculty research collaboration. Our faculty members are engaged in research that contributes locally and globally in areas related to energy, environmental, development, trade, health, sports and tourism. The Department of Economics is ranked among the leading U.S. economics departments for research productivity, and is particularly strong in environmental and experimental economics. Learn more at economics.appstate.edu.