Student members of Appalachian's Phi Beta Lambda chapter earned first place in Financial Concepts & Financial Services and Business Ethics categories, along with multiple other awards, at the 2018 North Carolina State Leadership Conference (SLC) in Charlotte, NC April 5-7.
"In fact, all nine members who attended the conference placed in the North Carolina top ten," said chapter President Jenny Zheng, who placed third in Future Business Executive and Management Analysis and Decision Making.
Zheng's peers Ana Melone and Sonu Sangani earned first place in the Business Ethics category. Jordan Boyd and Oryan Stinson placed first in the Financial Services and Financial Concepts category. Stinson also earned second place for his work in the Financial Analysis and Decision Making category. Josh Conner earned second in Information Management as well as third in Management Analysis and Decision Making. John Dostert placed third in Computer Concepts and Business Presentations. Laken Homesley earned third in Business Presentation and seventh in Client Services and Austin Solomon placed sixth in Accounting Principles.
View photos from the conference.
Collectively, the members earned the Leadership Legacy Award and the PD-F Member Affiliation Award. Appalachian's chapter was also named largest western region chapter by total membership and earned first place in the western region for their work with Food Lion Feeds.
"The Appalachian State University Phi Beta Lambda Chapter has had an extremely productive year," said Zheng. "In addition to the success we experienced at the state conference, we are proud to have collected more than 700 bottles of water for Walker Cares, more than 800 pounds of food for Food Lion Feeds, and to have volunteered both semesters in our community through Adopt-A-Highway."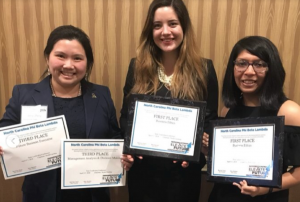 Tags: