IN PICTURES: Walker College of Business (WCOB) Dean Heather Norris, left, with BB&T Student Leadership Center Assistant Director Amy Odom, center, and Office of the Chancellor Executive Assistant and Walker College alumna Emily Wolfe during the 2016 Blowing Rock Fashion Show luncheon.
Three WCOB Marketing minors: Senior Jessica Lancaster, Junior Andrea Lazaro, and Junior Peter Nance, who are all Apparel Design & Merchandising majors, were the student designers featured in the show. According to the BlowingRocknews.com:
One of the innovative features of the 2016 fashion show edition was the participation of three Appalachian State student designers... Their designs were among the most creative of the show, ranging from formal evening gowns to avant-garde creations that, in the words of Mr. Nance's biographical program entry, "...uses a juxtaposition of traditional gender stereotypes to challenge assumptions on how beauty is standardized globally and how those assumptions prove irrelevant in the real world."
During the event, Harriet Davant was named 2016 Blowing Rock "Woman of the Year." Read the full article.
The Watauga Democrat also shared news about the event, which included images of some of the featured designs.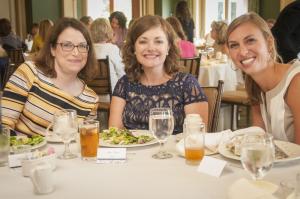 Tags: