ASU NEWS - Appalachian State University has earned a $65,000 Active Learning Center Grant to support AppLab from Steelcase Education. The organization's grant program supports teacher and student efforts to create an environment that encourages engagement, collaboration and creativity.
AppLab, part of Appalachian's Innovation and Design Cooperative (IDC), is a problem-based learning model where interdisciplinary teams of faculty and students work with community and industry partners to solve real-world problems through design thinking. The IDC emphasizes collaborative and experiential learning.
Design-thinking was part of the grant writing process. Senior interior design major Courtney Sullivan of Greensboro created the renderings for the grant using expertise in Steelcase products and thinking processes obtained during a recent studio course.
"The grant proposal process was a great example of the AppLab team working together across all disciplines," said Richard Elaver, an associate professor of industrial design in the College of Fine and Applied Arts and co-director of AppLab and IDC. "Our backgrounds brought a diverse set of experiences to the proposal."
Only 15 Steelcase Education grant winners were selected from a pool of more than 900 applicants.
The grant will cover the cost of furniture, design, installation, onsite training and pre- and post-occupancy measurement tools for the lab, which will be housed in the College of Fine and Applied Arts' HOW Space beginning in fall 2017. This off-campus location in downtown Boone – across from The Local at 182 Howard Street – makes it an ideal space to pilot the active learning environment, said the program's co-director, Mark Lewis. Lewis is an assistant professor of management in the Walker College of Business.
"We are so excited and very much appreciate this grant from Steelcase," said Lewis. "Our highest objective is to help develop the next generation of leaders and change-makers, so such individuals can go into their respective industries and work to unlock the status quo…helping to create more value for a greater number of stakeholders."
Lewis added that the skill-set the faculty is developing in students is complex and requires a very different way to think and learn.
"Students need to transition from passive receivers of information to being active participants in learning and discovery, and this requires novel approaches to teaching and new learning environments to support such a process," said Lewis. "The Steelcase grant helps us cultivate this active-learning environment with their amazing suite of furniture and collaboration tools."
"Professor Elaver and Dr. Lewis are creating transformational experiences for our students," said Walker College of Business Dean Heather Norris. "They will build on this momentum and make positive change for our students, our community and the world."
Phyllis Kloda, dean of the College of Fine and Applied Arts, agrees.
"We are thrilled that Dr. Lewis and Professor Elaver are recipients of this prestigious award," she remarked. "The Active Learning Center Grant helps solidify our vision for AppLab 3.0 as a collaborative design think tank providing students and faculty with unique opportunities to partner with local industries and create innovative solutions."
Schools and universities across the United States and Canada were selected for the grants, including Baylor, Embry-Riddle Aeronautical University and the University of Notre Dame.
About the College of Fine and Applied Arts
Appalachian State University's College of Fine and Applied Arts is a dynamic and innovative group of seven academic departments, bringing together a variety of perspectives, experiences and real-world education to provide unique opportunities for student success. The college has more than 3,000 undergraduate and graduate majors. Its departments are Applied Design, Art, Communication, Military Science and Leadership, Sustainable Development, Sustainable Technology and the Built Environment, and Theatre and Dance.
About the Walker College of Business
The Walker College of Business at Appalachian State University delivers transformational educational experiences that prepare and inspire students to be ethical, innovative and engaged business leaders who positively impact our community, both locally and globally. The college places emphasis on international experiences, sustainable business practices, entrepreneurial programs and real-world applications with industry. Enrolling approximately 2,800 undergraduates in 10 majors and nearly 175 graduate students, the Walker College is accredited by AACSB International – the premier global accrediting body for schools of business.
About Steelcase Education
As lifelong learners, Steelcase Education aims to make a difference in education. For students, educators and designers, the organization creates the most effective, rewarding and inspiring learning spaces. As a dedicated group within Steelcase exclusively focused on education, it brings evidence-based design, technology and innovative solutions to education environments, wherever learning happens.
About Appalachian State University
Appalachian State University, in North Carolina's Blue Ridge Mountains, prepares students to lead purposeful lives as global citizens who understand and engage their responsibilities in creating a sustainable future for all. The transformational Appalachian experience promotes a spirit of inclusion that brings people together in inspiring ways to acquire and create knowledge, to grow holistically, to act with passion and determination, and embrace diversity and difference. As one of 17 campuses in the University of North Carolina system, Appalachian enrolls about 18,000 students, has a low student-to-faculty ratio and offers more than 150 undergraduate and graduate majors.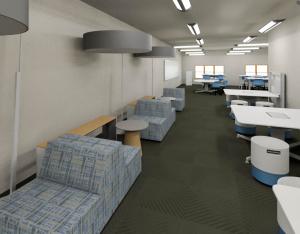 Tags: