Approximately 400 business students graduated from Appalachian State University's Walker College of Business on Saturday, May 14.
During a ceremony specific to the college, UNC Board of Governors Member David Powers brought greetings from the University of North Carolina System, Chairman Bradley Adcock brought greetings from Appalachian's Board of Trustees and President Carolyn Clark brought greetings from the Appalachian Alumni Association.
Three business students served as speakers at the event. Accounting graduate Cody McKinney welcomed the attendees, Hospitality and Tourism Management graduate Emily Haas provided remarks, and MBA graduate Zachary Ammar shared additional comments.
Cratis Williams School of Graduate Studies Dean Max Poole presented the candidates for graduate degrees, while Walker College Dean Heather Norris presented the candidates for bachelor's degrees. Appalachian Chancellor Sheri Everts conferred the degrees.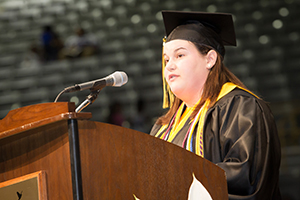 View photos from the May 14 College of Business commencement ceremony.
Ammar is the first graduate student to serve as a speaker at a Walker College commencement ceremony. Previously, graduates students participated in a separate School of Graduate Studies event.
During Haas' comments, she encouraged her fellow graduates "to challenge the status quo and forge [their] own path" and related how the breadth and depth of her campus experiences at Appalachian had prepared her to compete and win a high-stakes job in NYC against Ivy league competitors. "My roles on this campus were diverse and exposed me to different challenges and growth opportunities," said Haas.
Haas added that her story is not unusual at Appalachian.
These experiences are not unique to just me. In our graduating class we have students who have been managing a 120,000-­‐dollar investment portfolio. There are some of you who are getting ready to go to China and others who have been - while working tirelessly to develop a business plan with international students from Fudan. Some of you have dared to start your own business after recognizing a need and not wanting to wait around for someone else to address it. Many of you have other accomplishments that are specific to you and your journey at App. Being a first-­‐generation college student. Working really hard to get that B+ in Accounting. Learning how to ski or snowboard.
"That's the thing that makes Appalachian home," said Haas. "We each have our own story and own path that has led us to this moment."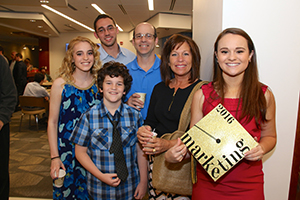 Prior to the ceremony, faculty and staff members from the Walker College of Business hosted a well-attended reception for graduating students and their guests. The reception, held in Peacock Hall, provided an opportunity for families to not only spend time celebrating the accomplishments of the graduates, but also to meet favorite friends and professors.
View photos from the reception in Peacock Hall.
Several favorite professors were highlighted in a multi-media piece from May 2016 Commencement, developed by staff at Appalachian's University Communications. In the video students share their memories of their favorite professors, and faculty share why they are passionate about imparting knowledge. Students can be seen and heard describing how:
Marketing Professor "Mr. 'C.' went above and beyond expectations and helped me get a job after college."
Insurance Professor "Dr. Wood inspired us, he wanted us to be the best he could be."
Executive-in-Residence "Leigh Dunston opened my mind to so many things."
Associate Dean for Graduate Programs "Dr. Sandra Vannoy treated me like an equal."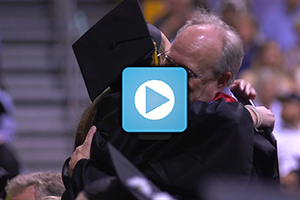 Appalachian is known for close collaboration between faculty and students, and superb faculty mentorship, and the relationships built in the class of 2016 is no exception.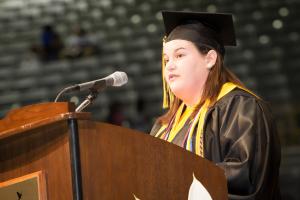 Tags: