New degree offerings draw students to Boone
A Family Affair
Daniel Emery is a second-semester graduate student in Appalachian's Applied Data Analytics Program. Having come to Appalachian by way of Stanford University and the City of East Lansing, Michigan, Emery completed an undergraduate degree in geophysics and joined the workforce as an engineer for the city. At the time, Emery's younger sister, Hannah, had enrolled as a freshman at Appalachian and spoke with great enthusiasm about the quality of her education and the transformative connections she was developing in Boone. Hannah Emery, who was enjoying academic success in her sustainable development and environmental studies programs and athletic success as a pole vaulter on the Mountaineer track and field team, encouraged her brother to look into the graduate programs at Appalachian.
The Master of Science in Data Analytics
Emery's inquiries led him to one of Appalachian's newest graduate degree programs, a Master of Science in Applied Data Analytics, which was launched at Appalachian in 2016. Realizing the growing value of data analysis for organizations, Daniel knew the degree would help him further accomplish his career goals. Students in Appalachian's analytics program must complete a practicum to apply classroom learning in a real-world setting. Graduates possess the technical skills to work with data and to do so within the business context, understanding and applying concepts, techniques and tools to help organizations make decisions and solve problems. Emery was convinced. He came to Appalachian in 2017, and, like his sister, began realizing the value of the Appalachian experience and network.
The Appalachian Network
During his first semester at Appalachian, Emery met a variety of individuals who would become part of his new Appalachian family. Director of Data Analytics Lakshmi Iyer, Center for Analytics Research and Education Director Joseph Cazier, Global and Civic Engagement Associate Dean Martin Meznar, and two fellow students –– Cameron Barnett and Kiefer Smith –– all would play a key role in Emery's Appalachian experience. At Stanford, Emery was a two-time member of the all-academic PAC-12 track and field team (a pole vaulter, like Hannah), a recipient of the Dean's Award for Undergraduate Academic Achievement, and the 2015 Graduate Student Award for Best Undergraduate Paper. At Appalachian, the bar, so to speak, was set high for Emery. And he delivered. Initially collaborating with Iyer, who recognized his drive and potential, Emery was paired first with Meznar and later Cazier to further campus research efforts. All the while, together with Barnett and Smith, Emery completed and placed 50th out of 4,000 entries in a global competition on home value prediction sponsored by Zillow, which became a subject for a mid-term presentation, and founded a data analytics company, Altitude Analytics Consulting.
Experiential Learning
Working under Meznar, Emery, Barnett and Smith were assigned a practicum to conceptualize the energy and water consumption data for Peacock Hall, using real time data from meters on the building's solar array. "This is an outstanding team of data analytics students who are really motivated to gather the energy consumption data for Peacock Hall and present it in an effective way," said Meznar. "It may even provide a template for communicating data for other initiatives across campus." Emery's drive to make an impact through analytics is boundless. Performing research with Center for Analytics Research and Education Director Joseph Cazier, Emery is looking at bee behavior and how beekeepers interact with an online system called HiveTracks to determine the hive's ability to thrive or fail. Emery is also applying data analytics to model landfill gas production in order to improve landfill gas collection system performance and ultimately reduce methane gas emissions. He is a member of the Executive Impact Club, which provides opportunities for professional growth to Appalachian's community of business graduate students. Through the club, Emery and his teammates have formed a committee that will lead a datathon to get students energized around data analysis, beginning in 2018.
A Dean's Club Scholar
Emery said that aside from the connections he's made, a Dean's Club Scholarship has been a key element to his success. "It has provided enormous aid to me, allowing me to focus more time on my projects and relieving the financial pressure of graduate school." The Walker College Dean's Club is an annual giving society that supports students and faculty and enhances the university's business programs. In the last two years, the number of student scholarships provided by Dean's Club members has doubled.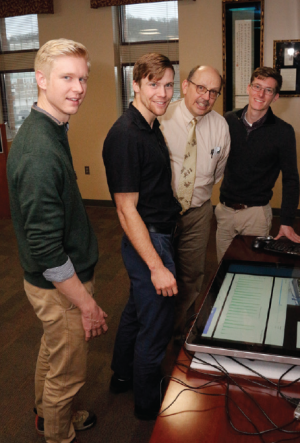 Tags: