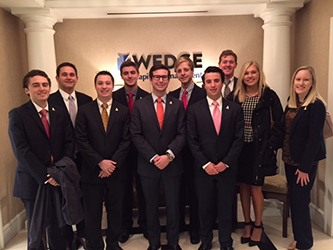 Students participating in the Bowden Investment Group (BIG) traveled to Charlotte March 27 to visit WEDGE Capital and learn about security analysis and portfolio management.
(Pictured L – R) Bowden Investment Group students Connor Kelly, Zach Pulliam, Jack Ludlow, Paul Hee, Matt Wine, Patrick Fontaine, Brett Featherstone, Stephen Boatman, Danelle Chilcott and Caitlin Owings
The students met with partners of the firm, securities analysts, portfolio managers, and traders while on site. The students had the opportunity to network with Appalachian alumni and WEDGE Partners Brad Horstmann and Brad Fisher and with Assistant Vice President – Fixed Income Specialist Wes Stoltz.
Walker College of Business Dean Heather Norris, Walker College Director of Development Will Sears, and BIG faculty advisors and Delbert Goff and David Thompson accompanied the students.
Thompson retired from WEDGE as General Partner and Chief Financial Officer.
While in Charlotte, the students also visited Wells Fargo Securities, where they toured the trading floor and heard presentations from economists and a derivatives trader. BIG alumni Robert Sjolander, Vice President, Interest Rate Derivative Sales, and John Granzow, Interest Rate Risk Management Analyst at Wells Fargo Securities, hosted the group.
About WEDGE Capital
WEDGE Capital Management offers stable, diversified investment products in the equity and fixed income markets. Throughout its more than 30 year history, the company has remained focused on value investing for institutional investors through the consistent application of a fundamentally-based, disciplined approach to the stock and
About the Bowden Investment Group
The Bowden Investment Group provides an opportunity for students to gain hands-on investment experience as part of an investment management course. The Elbert V. Bowden Student Managed Investment Fund was established in January 2000 in the Department of Finance, Banking and Insurance at Appalachian State University Financial donations from alumni, faculty, businesses and other supporters have added to the fund's total net assets. Students analyze investment opportunities and manage a real investment portfolio, with the goal of a return on invested funds that exceeds the return on the S&P 500 Index.