For the sixth year running, a team of students from Appalachian State University's Walker College of Business has won the regional CFA Institute Research Challenge, sponsored by CFA Society North Carolina (Chartered Financial Analysts).
The team members, pictured from left, are undergraduates Mac Shelton, Charles Plummer, Hollie Brown, John Mosser and Jarrett Jacumin.
View fullsize image (Photo Credit Sabrina Cheves)
They will travel to Seattle in April to compete in the CFA Institute Research Challenge Americas Regional competition. The students are all finance and banking majors at Appalachian.
The CFA Institute Research Challenge is an annual global competition that provides university students with hands-on mentoring and intensive training in financial analysis. Students work in teams to research and analyze a publicly traded company.
This year's competition focused on Highwoods Properties (HIW), which is headquartered in Raleigh. Students from each participating university conducted a thorough analysis of the company and wrote a detailed security analysis report with a "BUY, SELL or HOLD" recommendation, according to Delbert Goff, Chair of Appalachian's Department of Finance, Banking and Insurance.
The reports were graded by CFA professionals. The three best teams, based on the report grade, were invited to present their analysis in the North Carolina finals, which were held Feb. 25 at UNC-Greensboro. Appalachian was selected the winning team based on the report grade and the team presentation grade.
Also competing in the state regional finals were teams from Elon University and UNC Wilmington. Student teams from Appalachian have won seven of the nine years that the competition has been held in North Carolina and Appalachian is the only university in the state to have a team in the finals in all nine years.
"In addition to the solid classroom preparation our finance and banking majors receive, each year our CFA Institute Research Challenge receives invaluable input from CFA mentor Chris Pavese, which helps them prepare for the competition," Goff said. Pavese is Chief Investment Officer at Broyhill Asset Management.
The CFA Institute Research Challenge competition began in 2002 and was hosted by the New York Society of Security Analysts. It involved just five teams from the New York area. Since then, the competition has grown to engage tens of thousands of students from over 800 universities in more than 55 countries.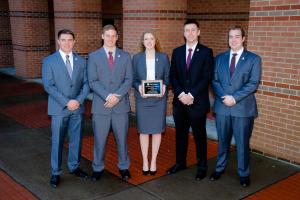 Tags: