ASU NEWS—Five Appalachian State University faculty members and one staff member in the Walker College of Business have received the college's 2015 Sywassink Award for Excellence.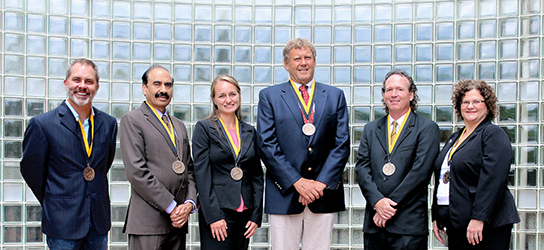 Sywassink Award winners from the Walker College of Business are Brian Whitaker, left, Dinesh Davé, Chelsie Eldreth, Rich Pouder, Scott Hunsinger and Barbara Michel. (Photo by Sabrina Cheves)
Dr. Rich Pouder received the award for excellence in teaching; Dr. Brian Whitaker was honored for his research contributions; and the awards for excellence in service were presented to faculty members Dr. Dinesh Davé and Dr. Scott Hunsinger. Barbara Michel was honored as the outstanding non-tenure track faculty member and Chelsie Eldreth received the 2015 staff excellence awardee.
The awards are presented annually. Winners receive a monetary prize and a bronze medallion of the university seal. The awards are made possible by a contribution from G.A. Sywassink, CEO of Standard Holding Company of Charlotte, a former member of Appalachian's Board of Trustees and a current member of the UNC Board of Governors.
Rich Pouder
Pouder is a professor in the Department of Management where he teaches courses in strategic management. He holds the Duane D. Daggett Professorship in Management. Pouder joined the faculty at Appalachian in 2000.
Students have praised his teaching style that includes augmenting class materials with relevant articles on management and presenting material in an engaging manner.
Pouder has chaired five student honors theses and was second reader on seven honors theses. He was a member of the MBA Thesis Committee in 2013. Pouder was honored for his teaching by the UNC Board of Governors in April 2009, and he received the Sywassink Award for Excellence in Research in 2005.
Brian Whitaker
Whitaker is an associate professor in the Department of Management. His research interests include feedback in organizations, ethics in the workplace and employee selection.
His research has been published in Journal of Management, Human Performance, Journal of Business Ethics, Employee Responsibilities and Rights Journal, Behavioral Research Methods, International Journal of Organizational Theory and Behavior, Journal of Knowledge and Human Resource Management, Computers in Human Behavior, and International Journal of Organizational Theory and Behavior.
Dinesh Davé and Scott Hunsinger
Davé and Hunsinger, both professors in the Department of Computer Information System and Supply Chain Management, were recognized for their service to the college.
Davé served as a board member of the Southeast Region of the Decision Sciences Institute, the Southeastern Chapter of the Institute for Operations Research and the Management Sciences. He currently serves on the board of the APICS Foothills Chapter, Charlotte Roundtable of Council of Supply Chain Management Professionals and Branch Banking Trust Company of Boone. He established the Appalachian Supply Chain Club and serves as the faculty advisor. Davé is also involved in academic research, serving on the editorial review board of the International Journal of Operations and Quantitative Management, the Coastal Business Review and the International Journal of Management and Social Sciences.
He earned the college's Distinguished Graduate Faculty Award in 2014 and 2015. He also received the Sywassink Award for excellence in service in 2009 and the Sywassink Award for excellence in research in 1996.
Hunsinger is active on numerous departmental, college and university committees and is the faculty advisor of Alpha Iota Mu and the Association of Information Technology Professionals (AITP) at Appalachian. Appalachian's AITP chapter members and Hunsinger have received over 35 national awards since 2007. In 2009, Hunsinger received the national AITP "Going the Extra Mile" award, and he was honored as national AITP Faculty Advisor of the Year in 2010. In both 2011 and 2012, the university chapter was selected as national chapter of the year.
Hunsinger is the CIS jobs and internships coordinator and maintains the CIS majors email list-serv.
Hunsinger is president of AITP-EDSIG, the Education Special Interest Group of Association of Information Technology Professionals, and he is on the national board of directors for AITP. He is senior editor of the Journal of Information Systems Applied Research, a member of the editorial review board for Information Systems Education Journal, and has served as associate editor of three academic journals, including the International Journal of Social and Organizational Dynamics in Information Technology.
Hunsinger has won multiple awards for teaching and research. He received a UNC Board of Governors Teaching Award in 2013 and a 2011 Sywassink Award for excellence in teaching. He has also received several research awards, including the Best Paper Award – Pedagogy at the International Association for Computer Information Systems in 2014. He received the W.H. Plemmons Leadership Medallion in 2012.
Barbara Michel
Michel is a lecturer in the Department of Marketing. She joined the faculty at Appalachian in 2008 and is director of the Martha Guy Summer Institute for future business leaders, a program that allows North Carolina high school students interested in pursuing a college degree in business the opportunity develop leadership and professional skills needed to be successful.
Michel is the committee chair for the business residential learning community, through which she develops and manages a group of entering freshmen interested in business as a career.
Chelsie Eldreth
Eldreth received the outstanding staff award, which honors staff members who exhibit dedication in service, innovation and workplace morale to Appalachian and the community. She has served as administrative assistant for the Department of Computer Information Systems and Supply Chain Management since 2010.
She earned a bachelor's degree in advertising from Appalachian in 2005 and a graduate certificate in business education, secondary education and teaching in 2016.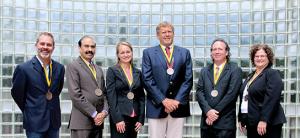 Tags: