ASU NEWS—Appalachian State University's Walker College of Business held its first Business for Good event at the Blowing Rock Art and History Museum Aug. 21.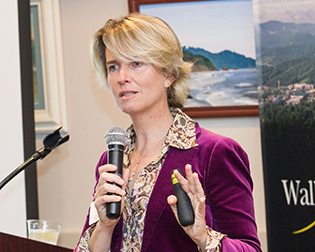 Leith Sharp and Jim Westerman spoke recently to a gathering of area business leaders regarding implementing sustainability in their business practice. The event, Business for Good, was organized by Appalachian State University's Walker College of Business. Sharp is director of executive education for sustainability at Harvard University's Center for Health and the Global Environment. Westerman is the college's director of sustainable business. (Photos by Marie Freeman)
The event was developed by Walker College Dean Heather Norris and Director of Sustainable Business Jim Westerman, in partnership with a sustainable business faculty committee representing each business discipline at Appalachian. The event provided a venue to train educators on sustainable business practices.
Key invited community members and selected students also attended the event, which hosted high-profile, nationally recognized sustainable business leaders who shared experiences from their work around sustainability as well as philosophies and examples from their respective companies surrounding the implementation of sustainable business practices.
Leith Sharp, director of executive education for sustainability at Harvard University's Center for Health and the Global Environment, provided insights on change leadership and organizational structure changes necessary to implement innovative ideas.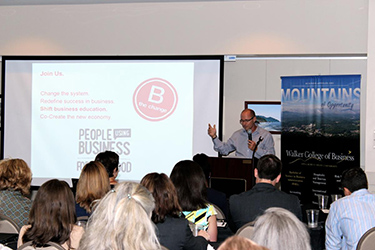 Erin Meezan, vice president of sustainability at modular carpet company Interface, told how her organization had significantly lowered its carbon footprint, energy use, greenhouse gas emissions, waste to landfill and water intake over the last decade through a dedication to sustainable business practices.
The speakers also shared how individuals and educators can make sustainability applicable in their own careers.
Heather Van Dusen, senior associate at B Lab, spoke on the topic "People Using Business as a Force for Good: B Corps, the B Impact Assessment, and Bringing the Movement to Business Education."
"B Corps are leading a global movement of people using business as a force for good," she explained. "All companies should compete to be not only the best in the world, but also to be the best for the world."
The afternoon featured video conference sessions with John Fullerton, founder and president of Capital Institute and former managing director of J.P. Morgan, and Kim Jordan, CEO of New Belgium Brewing Co.
Each speaker touched on how his or her company has embraced sustainable business practices, offered insights on how other businesses can join the movement and shared the positive outcomes sustainable business practices have on the world.
Video clips and slide presentations from the speakers are available online.
Leaders from locally owned businesses shared how they support the global and local community through sustainable business initiatives. Presenters included Lynn and Andy Mason, owners of Lost Province Brewing Co.; Renee Boughman, executive chief of F.A.R.M. (Feed All Regardless of Means) Cafe; David Cuthbert, CEO for the non-profit Wine to Water, which provides aid and clean water to people in need around the world; and Appalachian Mountain Brewery CEO Sean Spiegelman, who explained how the brewery's business model is built on sustainability, community and philanthropy.
"The day was a learning experience," Westerman said. "What we heard from the speakers during the Business for Good event will serve as a strong foundation as we strive to build state-of-the-art sustainable business practices into our teaching, research and service at the Walker College of Business."
The Walker College of Business is committed to advancing sustainable business practices that promote responsible management of economic, social and natural resources.