The Winston-Salem Journal recently reported on Michael Obacha, a Walker College of Business student double majoring in international business and economics who is a starting forward for the Appalachian State basketball team. Obacha made it to the Final Four in an unexpected way, and his accomplishments on the way there transcend basketball.
Obacha is one of five NCAA Division I players named to the 2015 Allstate-NABC Good Works Team, which honors athletes for leadership and community service. He will be recognized during Saturday's semifinals in Indianapolis.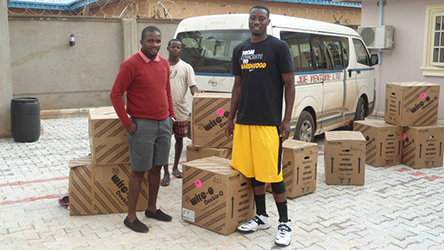 His good works began two years ago when he returned to his homeland Nigeria and took a few pairs of basketball shoes with him to give to children who couldn't afford them and were playing either barefooted or in shoes worn and falling apart. Since, through a charity drive that he organized, about 1,000 pairs of shoes have been distributed.
Obacha has expanded his effort to include school supplies for children in Nigeria. That idea came after a trip home last summer, when he encountered a 6-year-old girl at a government school in Kaduna State in North West Nigeria, near Obacha's home.
"She was crying so hard," Obacha said.
"I thought maybe somebody had hit her or something like that.
"Her little friend came by and asked her, 'What's wrong?' She said, 'I lost my pencil, and I don't know what I'm going to tell my parents when I get home.'
"I kind of had a flashback when I was little and going to school. I remember how difficult it is to get just a small thing like a pencil or a pen."
Obacha, the youngest of five children, said that his family, all in Nigeria, now does better than most – his father is a truck driver and his mother a grocer – but that much of the region's population lives on less than $2 a day.
"I know about the situation with school supplies because of where I grew up," Obacha said. "Most kids can't afford them.
"I wanted to do something that would impact kids even more than just the shoes. It's not only about getting them school supplies, but encouraging their interest in school. I just believe that education is the key to a lot of these kids' lives."
His goal is to raise $5,000 to provide at least 100 children with enough supplies, including shoes, for a year.
Ryan Bower, associate sports information director at Appalachian, was invited by Obacha to accompany him to Indianapolis. He describes Obacha, a former player at High Point Christian and Oak Ridge Military academies who will be a senior for the Mountaineers next season, as not only "a great student and a hard worker on the basketball court," but as an "even better human being."
Bower said Obacha's impact off the court is something that will resonate for a long time. "He's one of the more quiet people you'll meet, but he's so driven to help make a difference in the lives of others, it's incredible to see," Bower said.
Obacha will be the first of his family to get a college degree. He plans to graduate in May of 2016 with degrees in economics and international business. He hopes to continue to expand on his charity work after his final season of basketball.
"I want to keep doing this to help kids and help my country," Obacha said.
He said the exposure gained from the Final Four recognition should aid the effort.
"I will get to meet a lot of people, and that part is essential to any charity work," Obacha said. "Hopefully we will be able to help even more kids. I'm so grateful."
Tommy Bowman/Winston-Salem Journal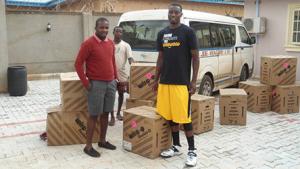 Tags: