Business students and faculty members from the Center for Analytics and Research Education (CARE) at Appalachian State University are collaborating with New River Light and Power Company (NRLP) to influence more sustainable power consumption in the high country.
Appalachian buys its electricity through NRLP, a nonprofit subsidiary of the university. NRLP buys electricity from Blue Ridge Electric Membership Corporation that was originally generated by Duke Energy power plants.
Led by CARE Director Joseph Cazier, the team developed a model and implementation plan for using information and communication technologies and predictive and behavioral analytics to reduce power consumption during Duke Energy region's peak hours, for which NRLP accrues approximately 50% of its power costs.
Because Duke Energy must activate an expensive secondary power plant when the NRLP region over consumes on peak hours, building an accurate peak-power prediction model and encouraging reduced consumption on hours identified by the model is a universally beneficial solution.
"Peak power is the most expensive power, making up close to a majority of NRLP's power consumption cost in a given year, and less sustainable technologies are turned on to meet peak demand," said Cazier. "Anything we can do to predict and consequently reduce peak power consumption has real monetary benefit to NRLP and also to the university's mission of sustainability."
NRLP General Manager Ed Miller has been instrumental in the collaboration.
Miller shared that the first stage of the project, which was implemented in summer 2015, resulted in improved peak power consumption predictions, from 52% to 75% accuracy while reducing the false alarm rate from 4% to 1.5%.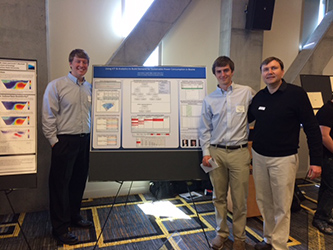 Graduate students Joseph Fagan and Aaron Nelson worked extensively on the project beginning in November 2014 with the creation of the decision tree model, which evaluates various weather trends in predicting peak days, and improved upon the accuracy of NRLP's original model significantly.
Fagan and Nelson presented their findings at the Appalachian Research Symposium and the Appalachian Energy Summit.
Additional Appalachian faculty members and graduate students have since joined the cause. University sustainability fellow and Walker College Professor of Accounting Tammy Kowalczyk and Ged Moody, special assistant to the Chancellor for Sustainability, are providing direction and feedback on the next stages of the project.
"We very much appreciate the willingness of NRLP and Ed Miller to assist our students in the research," Cazier said. "This is a real world, meaningful project that may have a lasting impact on the university and society."
About the Center for Analytics Research and Education
The Center for Analytics Research and Education at Appalachian State University aims to use analytics to promote positive behavioral change. CARE uses our skills and expertise in Big Data and Analytics to promote research and education in analytics that will lead to pro-social human behavioral change in the areas of sustainability, education, health and wellness, responsible management and security.
About New River Light and Power
New River Light and Power Company provides efficient and reliable electrical service to Appalachian State University, the Town of Boone and the surrounding community within the franchised areas assigned by statute and agreement between New River Light & Power and Blue Ridge Electric Membership Cooperative.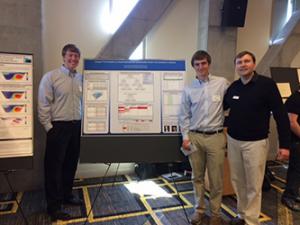 Tags: