According to a recent post by ASU NEWS, Appalachian State University's six commencement ceremonies were held May 12-13 with Chancellor Sheri N. Everts praising the "achievements of our students as they leave Appalachian prepared to make real and powerful differences in their communities and beyond."
"I find great hope for your community, state, nation and world in the promise you take forward into a future made all the brighter because of you," she said.
A total of 3,071 undergraduate students and 400 graduate students received degrees; roughly 550 of those students were business majors.
Alice Roess, who chairs Appalachian's Board of Trustees, spoke at each commencement ceremony. In her remarks, she quoted military Gens. Douglas MacArthur and Colin Powell. Roess shared MacArthur's definition of a leader and Powell's advice to "remain calm and be kind."
Students were the featured speakers at five of the college ceremonies, and the May 13 Walker College of Business ceremony was not the exception.
The Walker College of Business' student speakers were Samantha Bender of Philadelphia, who earned a BSBA in marketing, Dylan Galloway of Madison, who earned both an MBA and a Master of Public Administration degree, and Jewell Ward of Colfax, who earned a BSBA in finance and banking.
While at Appalachian, Bender accomplished a lot, creating everything from a "Positive Post-it Day" to landing a Holland Fellowship for Business Study in Asia. She said she came to Appalachian poor and from a high school where less than 14 percent of her class graduated.
She called studying at Appalachian "a worthy investment" because of professors who often offered what no textbook could and because of classmates who motivated her to be better.
"Thank you all for elevating me beyond my wildest expectations," she said.
Galloway has already secured a job, serving as the business services coordinator for the Northwest Workforce Development Board of the Piedmont Triad Regional Council.
In his graduation remarks, Galloway recalled what his 11th grade math teacher told him after he received a "terrible" SAT score in math.
"I was told I was only going to be as good as my SAT score," he said. "I made a promise to prove her wrong. Both (my degrees) have a great deal of math."
About the student speakers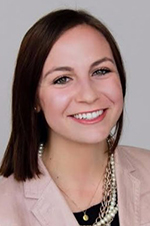 Samantha Bender is a first generation college student from Philadelphia, PA. While earning her degree in marketing at Appalachian, Samantha created Positive Post-it Day, a positivity inspiring, community-wide event that thousands have participated in and has received media coverage from the Huffington Post and NBC. Samantha was a student orientation leader, a member of Women of Walker, a professional mentor program, and the Holland Fellowship Program, an intense and selective research and cultural exchange with Fudan University in Shanghai. Following the exchange to China, Samantha remained abroad, completing an eight-week internship at the Su Fang International Commerce Center where she analyzed the supply chain of exports from China to the US. Samantha has served for two years as an Appalachian Ambassador, most recently as treasurer of the organization. She has worked on campus as the social media manager for the Wired Scholar Coffee Shop and as a development intern for the Office of Alumni Affairs & Annual Giving. After graduation, Samantha will begin her career as an operations manager for Amazon.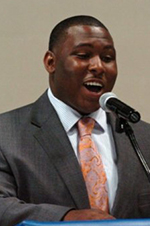 Dylan Galloway is a native of Madison by way of the Goodwill Community. Galloway is a graduate of North Carolina Central University (NCCU), where he earned his undergraduate degree in Business Management with a concentration in Hospitality and Tourism in 2010. Galloway is currently pursuing a dual Masters in Business Administration and Public Administration from Appalachian. He currently serves as the Business Services Coordinator for the Northwest Workforce Development Board of Piedmont Triad Regional Council. Prior to working with the Piedmont Triad Regional Council, Galloway served as the Executive Director of the Western Rockingham Chamber of Commerce. Immediately after graduating from NCCU, he was given the opportunity to intern at the White House during the Obama Administration. This experience fueled his desire to become a public servant and has made a lasting impression on his career and career goals. Galloway is very active in his community serving in the Omega Psi Phi Fraternity, Rockingham County Rotary Club, and a graduate of Leadership Rockingham. His long-term goal is to become a city manager. After graduation, Galloway plans to pursue opportunities in Local Government Management.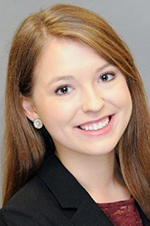 Jewell Ward is from Colfax and is graduating cum laude with a degree in Finance & Banking. During her time at Appalachian, Jewell served as an Appalachian Student Ambassador, holding the position of President during her junior year. Jewell was a member of the 2016 -2017 Bowden Investment Group and worked as a security analyst for the Walker College of Business' student managed investment fund. Jewell worked as a caterer for four years with a locally owned company, Red Moon Catering, and she has worked on campus as a Business Calculus Tutor, with the Martha Guy Summer Institute, and as a student employee in the Office of the Chancellor. In July 2015, Jewell traveled to Bloemfontein, South Africa with the University as one of four students representing Appalachian at the Global Leadership Summit hosted by the University of the Free State. The following summer, she completed an internship with the Finance Management Analyst Program at Bank of America in Charlotte. Jewell will return to Charlotte after graduation and begin the two-year rotational Finance Management Analyst Program with Bank of America.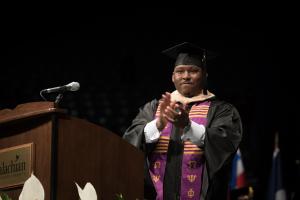 Tags: