Senior accounting major Michelle Bennett, sophomore marketing major John Vines, senior communication science & disorders major Elzabeth Brewer, and junior chemistry major Danielle Arney attended the Future Business Leaders of America-Phi Beta Lambda (FBLA-PBL) National Leadership Conference in Chicago June 24–27.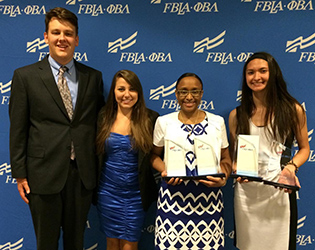 Pictured, from left, John Vines, Dnaielle Arney, Elizabeth Brewer and Michelle Bennett.
Approximately 1,600 participants from across the United States attended the conference to enhance their business skills, expand their networks, and participate in business and business-related competitive events.
Michelle Bennett and Elizabeth Brewer brought home third place in Accounting Analysis & Decision Making competition. This event recognizes PBL members who possess knowledge across the core curriculum in the area of accounting.
Bennett also placed tenth place in Cost Accounting. This event recognizes PBL members who demonstrate outstanding knowledge and skills related to management and financial accounting.
Elizabeth Brewer brought home third place in Future Business Educator competition. This event honors outstanding PBL members who exhibit teaching potential, leadership qualities, and evidence of knowledge and skills essential for successful careers in teaching business and/or marketing subjects.
"All of these students worked hard to make it to the national stage. I am proud of their efforts and accomplishments. I have no doubt that they will be an asset to the business community!," said Dr. Alicia Finnell, chapter adviser.
The awards were part of a comprehensive national competitive events program sponsored by FBLA-PBL that recognizes and rewards excellence in a broad range of business and career-related areas. For many students, the competitive events are the capstone activity of their academic careers.
In addition to the competitions, students attended educational workshops and attended motivational keynote addresses on a broad range of business topics.
About FBLA-PBL, Inc.
Future Business Leaders of America-Phi Beta Lambda, Inc., the largest and oldest student business organization, is a nonprofit 501(c)(3) education association with a quarter million members and advisers in over 6,500 active middle school, high school, and college chapters worldwide. Its mission is to bring business and education together in a positive working relationship through innovative leadership and career development programs. The association is headquartered in Reston, Virginia, just outside of Washington, D.C. For more information, visit fbla-pbl.org.