Three teams of business students completed in the 2016 Walker College of Business Leadership Case Competition on Friday, April 22.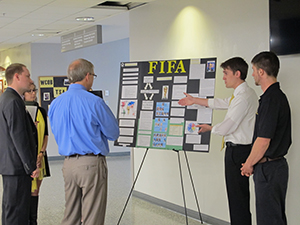 The event, held in Peacock Hall on the campus of Appalachian State University, was sponsored by the college's BB&T Student Leadership Center.
The case competition was the culmination of a semester-long case study. Each team worked together to solve an ethical dilemma and designed a poster that summarized their response, recommendations and analysis. A panel of judges comprised of faculty and staff from the Walker College of Business and Appalachian's Center for Student Involvement and Leadership attended the poster presentations and provided feedback.
The winning team was comprised of Junior Health Promotions Major Chris Brands; Sophomore Accounting Major Ashlee Harvey; Senior Interdisciplinary Studies Major Zach Hunter; and Junior Hospitality and Tourism Management and International Business Major Carson McMillan. They earned an all-expense paid trip to Atlanta, Georgia to attend the International Leadership Association's 18th Annual Global Conference,The Dynamics of Inclusive Leadership. There, the students will participate in leadership workshops, hear keynote speakers and compete against student teams from around the world in the international case competition.