A commencement reception for graduating business students and their families is set for Saturday, May 14 from 10:30 - 11:45 a.m.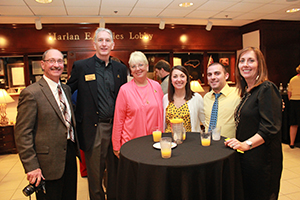 The reception, hosted by the administration and staff of the Walker College of Business, will be held in the second floor Broyhill Commons of Peacock Hall. Graduates and family members will have the opportunity to enjoy refreshments and greet faculty members and administrators. Students receiving undergraduate degrees as well as MBA and MS of Accounting graduates are encouraged to attend.
"It will be an honor to call these students Walker College of Business graduates," said Walker College Dean Heather Norris. "I look forward to a great day on May 14."
The Walker College of Business Commencement Ceremony will begin at 1:00p.m. in the Holmes Convocation Center. Graduates should arrive at Holmes one hour prior to the event start.