The Walker College of Business collaborated early in February with an African American fraternity, the Mu Upsilon chapter of Kappa Alpha Psi to hold a panel discussion, "Courageous Conversations" in observance of Black History Month. The panel included two current graduate students who are working toward an MBA. One of them is a 2016 alumna of Appalachian. The panel also included two additional alumni.
Two members of the fraternity, Jalen Sanders, of Charlotte, and Brevin Renwick, of Statesville, are business majors. Dr. Jamie Parson, an assistant professor in the Walker College of Business and chairperson of the college's Diversity Advisory Team, said the event was organized in response to students' questions about challenges in the workplace. The advisory team decided it was a good time to partner resources between the college and fraternity to host a panel discussion.
"Too often we get stuck in our college bubbles and lose sight of opportunities to engage in relationships across campus including student organizations which is why we wanted to co-sponsor this discussion with Kappa Alpha Psi Fraternity, Inc. and open the event to students across campus," Parson said.
The goal was to provide students with an hour of candid conversation with minorities who've found jobs in their fields of study after graduation. The panelists offered tips on a span of topics: preparing for interviews, understanding the culture of a prospective employer, finding mentors, maximizing the potential of the business degree and dealing with intolerance on the job.
"Creating a diverse student body is important, but where is the value to our respective industries if all we do is create a number and fail to provide opportunities for students of different backgrounds to engage and learn from each other? Everyone walked away from this event with greater sense of hope, self-awareness and direction," Parson said.
Walker College of Business Dean Heather Norris said, "The Walker College is committed to creating a diverse learning environment for our business students, faculty and students. Through the leadership of our Walker College Diversity Advisory Team, we are providing opportunities for college members to engage in important conversations like the discussion that took place during the Feb. 2 Courageous Conversations event.
"We are grateful for the opportunity to collaborate with other groups on campus, including the members of Kappa Alpha Psi, to create forums for our students to engage in dialogue offering diversity of thought. Black History Month is a great opportunity to celebrate and grow cultural awareness in our community."
The journey to Appalachian and beyond
Panelists Ramona Harris '16 and Jonavan Adams '03 and '05 said the panel discussion was a valuable opportunity to spark conversation between students and alumni. Shortly after earning her undergraduate degree last year, Harris began working on an MBA, a credential that may prompt the opening of a bakery she's dreamed of operating.
"When I leave Appalachian State the opportunities are endless. I could go in so many directions. I could do so many things with the experience and education I have. I want to exploit that in such a way I am fantastically happy in whatever I do," Harris said.
Harris can recall how that journey began over 20 years ago. She and two younger sisters advanced from curious youths baking in the family kitchen to teens assisting their mother with her home-based catering business. They were impressed by her cooking skills and her creative solutions to customer demands. Whether it was an outdoor celebration for a family or a wedding reception, pleasing the customer was goal one.
Eventually, Harris went to work full-time as a recruiter with a technical staffing company. She enjoyed the job and made it her goal to excel at every task assigned within the company. Within two years, Harris concluded the company's lack of minorities in management positions was not a good sign for her career ambitions. When she wasn't promoted following strategic efforts to excel, Harris said she decided to change employers.
"When I saw I couldn't move forward, I looked outside the company to do that. You will retool your career many times to survive," Harris said. "Nontraditional students like myself can give (students) information about what they are going to run into. Those who listen can survive the endurance test."
Harris' endurance test began a few years ago when her family relocated from California to their home base in North Carolina. Her father was in the military so relocations were common. Harris says entrepreneurship is also a common trend in her family and she wondered if she would own a business. First, she earned an associate's degree from Fayetteville Technical Community College and landed a position as a chef at a Charlotte hotel. Less than year later, she received an acceptance letter from Appalachian announcing she had been admitted as a junior.
She informed her family that she would accept that offer and complete a bachelor's degree. Now that her MBA program is underway, Harris encourages undergraduates to carefully plan their career path. Step one, she advises, is to complete internships where students observe professionals hard at work and gain work experience.
"Internships are invaluable. You learn what you'd rather do and what you'd rather not do. Mentorship is also very important. Sometimes you find [mentors] on the job or internships. The key thing is mentors help you see yourself. Good mentors are not afraid to tell you where you need to improve," Harris said.
Preparing for life after college
Adams agrees that feedback from mentors can make an incredible difference in the lives of college students. Adams recalls being a student ambassador as an undergraduate here at Appalachian. While volunteering, he met alumni who shared stories from their professions that inspired him.
"You felt like you had a connection if you had a (career) interest that was similar to theirs. You felt comfortable to reach out to them and they would give you honest feedback on what to expect," Adams said. "It was through the kindness and courtesy of others who shared their work experiences that I learned as a student what employers expect."
Adams earned degrees in Interpersonal/Organizational Communication and Theatre Performance from Appalachian. He earned an MBA from Strayer University. He works as human resources recruiter for Europa Sports products in Charlotte. Adams maintained ties to the university by participating in alumni events and returning to campus to mentor students, especially those in his fraternity, Kappa Alpha Psi.
During the panel discussion, he urged students to take advantage of campus resources that can help them prepare for job interviews and prepare to land that first job. Understand that challenges will arise in the workforce, he explained, but never lose sight of the many opportunities to excel.
"Companies are looking for people who work well with others, work well in teams on and off the job. Some will give you a personality assessment the day of the (job) interview, checking to see how outgoing you are, or if you seem to be an introvert." Harris explained.
Adams advised students that employers are likely to check social media sites to learn about job applicants' behavioral patterns and past activities. Once employed, he warned students, understand the proper codes of conduct. Some companies have a business casual dress code. Others still expect male employees to wear the standard suit, tie and dress shoes for the workday, he said. While employers vary in their support of charitable agencies, new employees should anticipate some community service projects.
"Some employers offer up to18 (flexible) hours so you can volunteer in the community. You may find your employer is linked with organizations that hold 5k runs, blood drives, and more. Those are also opportunities to develop as a well-rounded professional," Adams explained.
Adams said students should realize the workplace can bring rewarding experiences to their lives and some unfavorable experiences, such as biases and various intolerances.
"Be who you are and stand on what you believe in. Before you apply for a job, do research not just on the (prospective employer's) website, but their third party vendors' sites. Know what they stand for; who they partner with. See how they perform in the market financially."
"It's also important that students be familiar with literature that's relevant to the industry you want to work in. It is easier now (with the internet) for students to get that information, Harris said. "I've learned preparation is the key to anything, overcoming fears, (interview) anxiety. Key experiences and tips on how to prepare yourself is vital. Having that information is key to avoiding the roadblocks that are out there."
By: Kesha Williams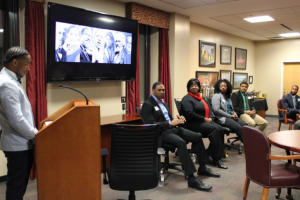 Tags: