Students in Appalachian State University's Master of Science in Applied Data Analytics (MSADA) program have earned first place in Arch Mortgage Insurance's 2021 ARCH MI Data Dive Competition.
Along with a teammate from UNC Greensboro, the Appalachian MSADA students -- Chip Debelius, Gopika Malik, Ani Nomula and Katherine Uva -- comprised the team Triple D -- Dynamic Data Divers -- and earned a $3000 prize.
"Our team was a unique blend of members who are data experts and marketing experience holders," said Malik, who serves as the MSADA Analytics Team co-Captain and as a member of this squad. "Each of our work expertise helps us contribute to this win!"
The team members said that, going into the competition, they were confident in their data cleaning, processing and analysis skills. They said they wanted to focus on presenting their analyses in a way that the case organization, Community Housing Solutions (CHS), could "draw tangible conclusions and see a clear path to increase their donor database, and subsequently donations, to fun more home repairs."
The App State students beat out student teams from Wake Forest University, Duke University, Arizona State University, and UNC Greensboro, among others.
"The other teams created excellent reports and computed far-reaching statistical analysis," said Uva, an Appalachian MS ADA and dual MBA student. "They computed incredible statistics and reached similar conclusions that we did; however, each section of our data focused on the application of the data, and how it led to the impactful solutions, ideas and creative opportunities to drive more donors to CHS."
About the Master of Science in Applied Data Analytics Program
Organizations increasingly rely upon both structured and unstructured large-scale data for operational and strategic decision-making. Appalachian's Master of Science in Applied Data Analytics degree provides students with not only the technical skills to work with data, but to do so within the business context. The program develops business professionals who understand and apply data analytics concepts, techniques and tools to promote effective organizational problem-solving. Learn more at http://business.appstate.edu/analytics.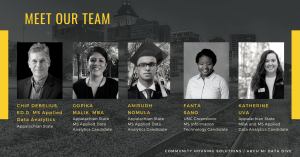 Tags: