The deadline to submit a scholarship application is Monday, February 29.
All Walker College scholarships are based primarily on academic achievement and/or financial need. Additional consideration is given to career goals and involvement, and leadership in extracurricular activities. Students applying for scholarships are expected to meet the following minimum criteria:
Must be a junior or senior unless otherwise stated.
Must be a full-time student (registered for 12 or more hours per semester) unless otherwise noted.
Must be making satisfactory academic progress.
Any past violation of the code of student conduct or the code of academic integrity will preclude receipt of any scholarship. Any violation while on scholarship will result in forfeiture of the scholarship.
Some scholarships have more specific criteria and are restricted to particular majors in the College of Business. Scholarship donors reserve the right to increase, decrease or withdraw scholarship funding. For annual scholarships you must reapply each year to be considered.
In order to apply, complete one online application to be considered for all appropriate College of Business scholarships.
International/Study Abroad scholarships involve a separate application process.
If you have questions about any of the Walker College of Business undergraduate scholarships or the scholarship process, please contact Ms. Kathy Mann, 4126 Peacock Hall, 262-6165, mnnks@appstate.edu.
If you are a College of Business major and interested in tuition assistance through the military, contact the ROTC Office, D.D. Dougherty Hall, or call 262-2015.
For information on scholarships pertinent to a specific major or national scholarships not awarded through the College of Business, contact the appropriate department chairperson.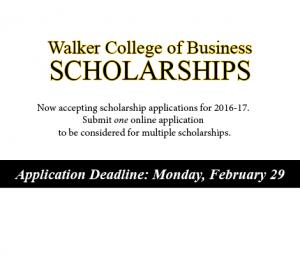 Tags: