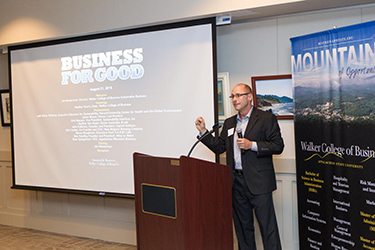 This edition of the Walker College of Business Dean's Update is one in a series of monthly publications for Walker College faculty, staff, stakeholders and Appalachian State University community members. Please share your departmental, programmatic or individual news items for inclusion in this and other publications of the Walker College of Business.
The fall 2015 semester is in full swing at Appalachian. Students were welcomed back to the Walker College of Business with a reception in Peacock Hall on August 17, filling our new and improved learning and networking space on the 2nd floor with energy and enthusiasm. While finishing touches, including paint, additional digital signage and exterior maintenance are still in progress, the improvements are already enhancing every business student's experience. Overheard in Peacock Hall: "Dude, I'm really diggin' the new space!"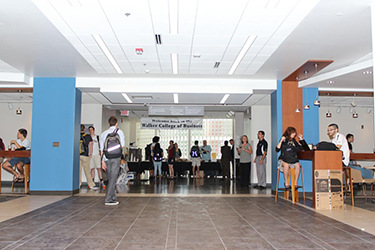 More than 80 faculty, staff and community members attended the Business for Good event in Blowing Rock on August 21, where we learned from experts how sustainable business practices relate to us all. Video and presentation files from speakers, including keynote speakers and local business leaders, are on the sustain tab of our website for your resource needs. The Walker College is committed to advancing sustainable business practices that promote responsible management of economic, social and natural resources, and we support the broader university goals surrounding sustainability. For example, the college's International Business Student Association (IBSA), led by faculty advisor Shannon Creighton, is coordinating the zero waste stadium clean-up this football season. If you're willing to volunteer, please sign-up online. Proceeds from the effort will support international student travel.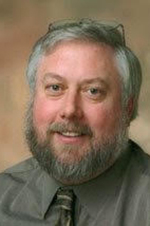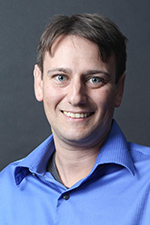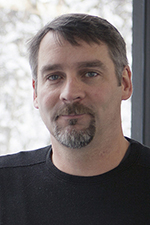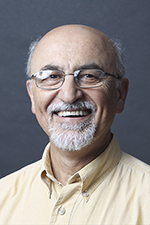 Our faculty are focused on teaching and learning and are engaged in research. Most recently, marketing professor James Stoddard's work was published in the Journal of Wine Research and research from finance professor Jeff Hobbs has just accepted for publication in the Journal of Financial Crime. Center for Economic Research and Policy Analysis (CERPA) Director Todd Cherry was recently named to the Journal of Environmental Economics and Management editorial board. At the September 3 University Convocation, two Walker College representatives, Marketing Chair Dr. Unal Boya and student/entrepreneur Mr. Merrick Marquie, were presented with WH Plemmons Leadership Medallions. Pictured from left are Stoddard, Hobbs, Cherry and Boya. Share your accomplishments, upcoming activities, and guest speakers with our communications team online.
In recent news from the state, House and Senate leaders reached a compromise on state employee pay and moved closer to an agreement on overall state spending. Details are available online. In university news, Chancellor Everts addressed the Appalachian faculty and staff on August 28, outlining her priorities for the university: Support for Faculty and Staff; Wellness, Health and Safety; Diversity; Sustainability; Global Learning; Student Research; Community and Civic Engagement; Fundraising; and Slow and steady enrollment. Read more online or view Chancellor Everts' fall 2015 welcome message. Like Appalachian, the Walker College is committed to developing a diverse campus culture. The college's recently formed Diversity Advisory Team is seeking volunteers to serve. Interested individuals should email co-chair Jamie Anderson-Parson.
September will bring many more activities and opportunities to engage with our students and community.
On September 15, what was formerly known as the 4th floor faculty lounge will be officially dedicated as the Holland International Engagement Room. Mr. Bill Holland, his wife Donna, and special guests will be invited to a ribbon cutting and luncheon. Contact Will Sears with questions.
Many faculty and staff members will be involved in the September 26 information fair in the Holmes Center as part of Appalachian's Open House. Walker Fellow student ambassadors will be in Peacock Hall leading tours of our business building from 10:00 a.m. through 1:00 p.m.
The third annual Business Connections event, designed to help prepare Walker College of Business students for the realities of the business world, will take place September 30. Get more information online.
I hope that, like me, you are looking forward to another great year in the Walker College.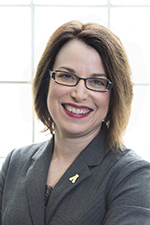 Heather Norris, Dean
Walker College of Business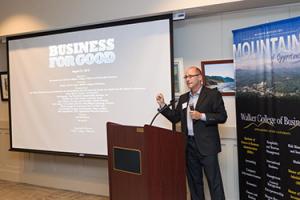 Tags: