The University of North Carolina System recently announced their 2019 Academic Affairs Faculty Fellows, and Appalachian State University associate professor Dr. Benjamin Powell was one of three.
Dr. Powell, a professor in the Walker College of Business' Department of Management, will spend one year researching academic affairs as part of the program.
In its fourth year, the program aims to increase the effectiveness of the UNC System and, in 2019, to find solutions to challenges around digital learning in higher education.
According to representatives for the UNC System, the 2019 Digital Learning Project will provide an opportunity for fellows to assist in introducing new strategies to the teaching and learning environment. They will be immersed in investigating and charting opportunities for faculty to take full advantage of new digital learning environments. The fellows will review the current literature, consult with innovative teaching faculty across the System and across the national higher education landscape, and will investigate, and experiment with, new technologies.
Ellen Holmes Pearson from UNC Asheville and Katherine R. Saul from NC State University were also selected to serve as 2019 Faculty Fellows. The fellows were selected from an applicant pool of all 17 UNC system institutions.
According to Dr. Kimberly van Noort, senior vice president for academic affairs and chief academic officer for the UNC System, Faculty Fellows provide important perspectives on how to address specific issues and develop solutions that will have lasting impact on accelerating student success. "We are fortunate to have three superbly qualified faculty, from three different institutions, who are willing to work on our important digital learning initiatives during the next year, said van Noort."
Dr. Powell earned an AB in chemistry from Princeton University, an MBA from Kenan Flagler School of Business Administration at UNC-Chapel Hill, and an MA and Ph.D. in management from the Wharton School at the University of Pennsylvania. Before pursuing an academic career, Dr. Powell helped start Milliken & Company's composite fabrics division and an environmental marketing research company in Bangkok, Thailand. Dr. Powell serves on Appalachian's advisory board for its learning management system and on the Walker College of Business' online task force and inclusive excellence team. Dr. Powell's research interests include: Entrepreneurship Pedagogy, Entrepreneurial Self-Efficacy, Career Paths of Entrepreneurs, Application of Evolutionary Theory to Entrepreneurship and Organization Theory.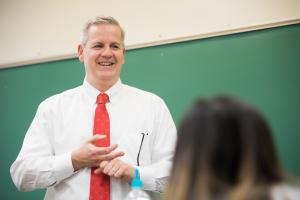 Tags: