After more than 30 years as a professor at Appalachian State University, Dr. Dawn Medlin is set to retire.
A long-time friend and mentor to Appalachian business students, Dr. Medlin could regularly be found around the Department of Computer Information Systems in Peacock Hall, home of the Walker College of Business.
Those who know Dr. Medlin have seen her passion to help students succeed both academically and outside the classroom.
"I love to teach, and as both a teacher and a researcher, it allows me to share new knowledge with my students," said Dr. Medlin, who also knows the value of out-of-classroom interaction. In fact, Dr. Medlin founded Women of Walker (WoW), a mentoring program to accelerate the professional development, personal growth and leadership abilities for female business majors.
During the college's 2018 Scholarship Reception, Dr. Medlin announced the creation of a new, endowed scholarship in honor of her parents, Bob and Doris. The scholarship, which is the fourth one Dr. Medlin has established, is dear to her heart and supports students with high financial need within Walker College. The other scholarships are the Kathy Edwards Fitzpatrick Memorial Scholarship for Computer Information Systems, the Best Friends Scholarship for Business and the Women of Walker Scholarship for females in business.
Celebrate Dr. Medlin
The Walker College of Business invites all of Dr. Medlin's former students, as well as friends and colleagues, to celebrate her retirement and honor Dr. Medlin with a gift to the Bob and Doris Medlin Scholarship.
Your gift will help continue Dr. Dawn Medlin's legacy in the Department of Computer Information System and within the Walker College of Business.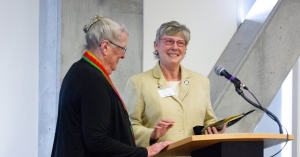 Tags: