Frank Thomas, a quantitative team leader for funds management at BB&T, will speak on "The Job Market for Quants in Bank Stress Testing" Tuesday, April 10 at 6:00 p.m. on the campus of Appalachian State University (Peacock Hall Room 1012).
The event, held as part of a National Association for Business Economics (NABE) chapter event, is free and open to the public.
In his current role, Thomas is responsible for development and maintenance of retail credit stress testing models for CCAR and CECL applications. Previously, he served as a quantitative analyst for BB&T. Thomas is a Certified Financial Risk Manager (FRM), using financial instruments to manage exposure to risk for the organization.
Thomas earned his business degree in economics with a minor in mathematics from Appalachian in 2013 and his master's degree in applied economics from UNC-Greensboro in 2015.
About Appalachian's NABE chapter
The National Association for Business Economics promotes interaction between economics majors and minors and between students and faculty. Activities include social gatherings, educational trips, and speakers regarding employment opportunities. Learn more at business.appstate.edu/clubs.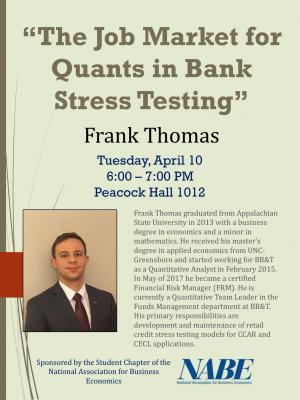 Tags: