The Department of Economics, the Center for Economic Research & Policy Analysis and the Walker College of Business at Appalachian State University hosted the 2022 Appalachian Experimental and Environmental Economics Workshop on April 8-9, 2022 at the historic Appalachian Theatre in Boone NC.
This workshop is part of a regular series of workshops hosted by the Department of Economics at Appalachian State that brings together junior and senior scholars that study issues related to environmental and natural resource policy.
Participants included:
The event was sponsored by the Center for Economic Research and Policy Analysis, the Walker College of Business, the Center for Behavioral and Experimental Agri-Environmental Research and the Research Institute for Environment, Energy and Economics.
About the Department of Economics at Appalachian State University
The Department of Economics in Appalachian State University's Walker College of Business is an intellectually vibrant place for students and faculty. As a research-intensive department committed to student learning, the department offers a wide range of courses that provide critical-thinking and problem-solving skills, complemented by student-faculty research collaboration. Our faculty members are engaged in research that contributes locally and globally in areas related to energy, environmental, development, trade, health, sports and tourism. The Department of Economics is ranked among the leading U.S. economics departments for research productivity, and is particularly strong in environmental and experimental economics. Learn more at economics.appstate.edu.
About Faculty Research in the Walker College of Business
Walker College of Business faculty produce and disseminate extensive research through both academic and professional communities. In the last five years, faculty members have published approximately 400 peer-reviewed academic journal articles, 130 conference proceedings and made more than 400 conference and professional presentations in 170 different venues. In total, the faculty has produced more than 700 individual intellectual contributions in basic discovery research, more than 400 contributions in applied or integrative research and 240 contributions in teaching and learning research. For more information, visit business.appstate.edu/faculty/research.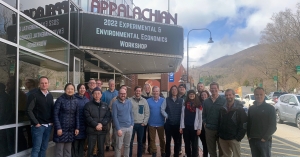 Tags: