Wallethub recently posted an article presenting research on 2019's best and worst cities for Football fans and cited Dr. Peter Groothuis as an expert on the subject.
Dr. Groothuis is a professor in the Department of Economics with a specific research interest in sports economics.
With the recent Superbowl, Dr. Groothuis suggested that "a Super Bowl has no economic significant impact on the host city," and he went into further detail by speaking on the role of professional football teams as either an economic drain or benefit for cities.
"Professional sports teams provide civic pride benefits for a city," added Dr. Groothuis, "but public funding is not an efficient use of tax dollars."
Read the full article at wallethub.com.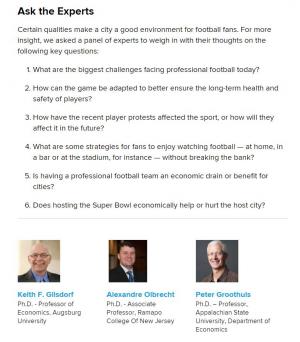 Tags: