On April 8, 2022, Appalachian State University dedicated the Edwards Accounting Suite to long-serving Walker College of Business accounting professor and its sixth dean, Dr. Randy Edwards '77, '78.
The Accounting Suite is on the third floor of Peacock Hall, home of the Walker College of Business. A plaque at the entrance states:
Randy Edwards came to Appalachian as a first-generation student and became one of the university's most generous, supportive and passionate leaders. Dr. Edwards earned Appalachian State degrees in 1977 and 1978, joined the faculty in 1981, became accounting chair in 1992 and was named Walker College dean in 2005. He later served as chief of staff and vice chancellor for advancement for the university. Dr. Edwards was instrumental in establishing key support services for business students and expanding scholarships for all students.
Colleagues, alumni, friends and leaders gathered to celebrate Dr. Edwards and his legacy. Guests included Chancellor Sheri Everts, Provost and Executive Vice Chancellor Heather Norris and John Blackburn and Scott Lampe, members of App State's Board of Trustees. The Randy Edwards Family – all 7 grandchildren, 4 children, their spouses, and Mrs. Margaret Edwards '79 were also on campus to celebrate.
"Like me, Randy is a first-generation college graduate, and I have long admired his passion for ensuring scholarship and other financial support for students," said Chancellor Sheri Everts. "At the beginning of the pandemic, when many App State students found themselves in financial distress, Randy helped ensure there were reserves in the Mountaineer Emergency Fund for students who were in danger of not being able to complete their education due to hardships presented by COVID."
Chancellor Everts added that Dr. Edwards has steadfastly prioritized the needs of App State students and that his balanced leadership style, broad institutional knowledge and business acumen, as well as personal traits of kindness, generosity and compassion, have left a transformative legacy on the university.
Dr. Edwards' accomplishments within the WCOB included development of Business Career Services, the BB&T Student Leadership Center and the Transportation Insight Center for Entrepreneurship. Edwards greatly enhanced scholarship support, especially for first-generation college applicants. He also helped many programs initiated by prior leadership thrive, including the Martha Guy Summer Institute, Holland Fellows, Bowden Investment Group and the Dean's Council of Student Advisors (replaced by the Walker Fellows).
Related: Former students, colleagues praise Dr. Randy Edwards in virtual retirement send-off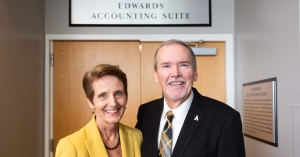 Tags: