By Harley Nefe
BOONE, N.C. –Two Appalachian State University faculty members in the Walker College of Business had their manuscript entitled "Ethics of Blockchain: A Framework or Technology, Applications, Impacts, and Research Directions" accepted for publication in Information Technology & People.
Dr. Jason Xiong, an assistant professor of computer information systems, co-authored research with Dr. Lakshmi Iyer, director of Appalachian's Data Analytics program, Yong Tang from the University of Electronic Science and Technology and Dr. Rafael Becerril Arreola from the University of South Carolina's Darla Moore School of Business.
Related: Information systems professors awarded one of only two grants to further ethics in blockchain research
According to Emerald Publishing, the company that owns Information Technology & People, the journal "publishes work that is dedicated to understanding the implications of information technology as a tool, resource and format for people in society as much as in their daily work in organizations."
"By publishing in this journal, (the faculty's) work will benefit from Emerald EarlyCite," Review Manager for Information Technology & People Dr. Luke Houghton wrote in an email. "This is a pre-publication service which allows (the faculty's) paper to be published online earlier, and so read by users and, potentially, cited earlier."
The research team is focused on the ethics of blockchain, which is a digital ledger technology that is used to record transactions across many computers so that any involved record cannot be altered retroactively.
According to the project, "Identifying the ethical challenges of blockchain is urgent and critically needed to ensure that blockchain is adopted ethically."
Xiong presented the research at the ACM SIGMIS CPR 2019 conference on June 21, 2019, in Nashville, Tennessee.
About the Department of Computer Information Systems
At Appalachian State University, computer information systems (CIS) students gain valuable professional skills and capabilities that prepare them for careers in a wide variety of technology-related industries. Students learn how to successfully interface between the technical and management aspects within organizations. Part of the Walker College of Business, the Department of Computer Information Systems offers one of 10 undergraduate business majors at Appalachian, all of which promote solid business acumen and technical fundamentals. Learn more at https://cis.appstate.edu.
About Walker College of Business
The Walker College of Business at Appalachian State University delivers transformational educational experiences that prepare and inspire students to be ethical, innovative and engaged business leaders who positively impact our community, both locally and globally. The college places emphasis on international experiences, sustainable business practices, entrepreneurial programs and real-world applications with industry. Enrolling approximately 3,000 undergraduates in 10 majors and 175 graduate students in three master's programs, the Walker College is accredited by AACSB International – the premier global accrediting body for schools of business. Learn more at https://business.appstate.edu.
About Appalachian State University
Appalachian State University, in North Carolina's Blue Ridge Mountains, prepares students to lead purposeful lives as global citizens who understand and engage their responsibilities in creating a sustainable future for all. The transformational Appalachian experience promotes a spirit of inclusion that brings people together in inspiring ways to acquire and create knowledge, to grow holistically, to act with passion and determination, and embrace diversity and difference. As one of 17 campuses in the University of North Carolina system, Appalachian enrolls about 18,000 students, has a low student-to-faculty ratio and offers more than 150 undergraduate and graduate majors.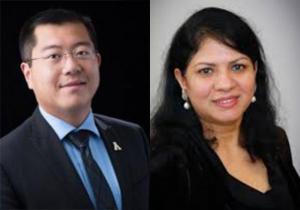 Tags: