A post in Kings County Politics entitled Pierce Offers Business Background to District 52 by Michael Rock features Appalachian State University alumna Jesse Pierce.
Pierce, who serves as Director Of Operations at Neverware, earned her degree in finance from the Walker College of Business in 2006.
Kings County Politics is a daily news site that covers the elected officials and government that serve the 2.5 million residents of Brooklyn, New York. The post is part of a series introducing readers to democratic district leaders. The post reads:
Compared to Brooklyn's other incoming district leaders, Jesse Pierce (D-Boerum Hill, Brooklyn Heights, Carroll Gardens, Cobble Hill, Downtown Brooklyn, Dumbo, Gowanus, Park Slope, Prospect Heights, Vinegar Hill) has a background that appears less progressive.

The eldest of four children, Pierce was born in Virginia and grew up in North Carolina. She graduated from Appalachian State with a degree in finance.

Pierce spent the next six years working at Accenture's D.C. and Baltimore offices before transferring to their New York location and living in the East Village with her sister in 2012 "give or take", finally moving to Cobble Hill in the summer of 2016.

Around that time, Pierce joined the New Kings Democrats. "That's how I became more aware of local Brooklyn politics," she recalled.

Since 2018, Pierce has been a "co-lead" of the NKD's #RepYourBlock, which aids Brooklyn residents seeking positions on the County Committee. "It's really a gateway to local organizing and participation at the party level," she said.

"Ideally, the more people you have involved and active, it just leads to healthier politics. And more healthy government."

That same year, it became clear that the successor of long-time former District Leader and former Assemblywoman Joan Millman wouldn't seek reelection.

"It just seemed like an opportunity to elevate in the work and continue to build on the relationships that I've already built," said Pierce, expressing her desire to "reform the 52nd Assembly District Committee."

"I would love to see more county committee representatives or just residents in general, participate in a lot of the small 'd' democracy work for district leaders today. So, like working with the Board of Elections. Uh, making sure that our polling sites are run and people are trained in there and that it's staffed um so that's an area that I think that would be great to get more people involved."

Other priorities include informational voter outreach. "The 52nd has pretty high, better turnout relative to New York. But I think that we could be doing a lot better," said Pierce.

"It's still like I think, that the highest like 30 to 35% dependent on how many registered Democrats are. So that's another area that I think that could be really exciting."

When asked how her current job as Director of Operations for Neverware, a technology company, was relevant to her new district leader role, Pierce was confident.

"I think that there's a lot of crossover, actually, with district leader, I think that at its heart as a party position, it's an operational position," she said, adding that it was a privilege for her to be able to take a volunteer position.

"The district is very privileged. It's predominantly white, very wealthy. So there are a lot of people who tend to have a lot of time available for these things. But, you know, people have a life and other responsibilities. So I think just being able to get people's attention and consistently show up...is a challenge, but one I enjoy."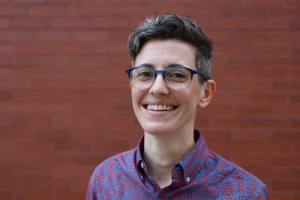 Tags: