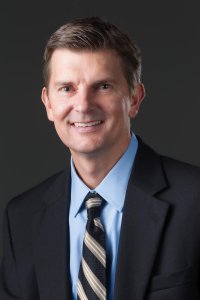 Walker College Professor of Finance David Marlett has been appointed to the InVEST board of directors, bringing more than 20 years of academic and professional credentials to program's leadership.
InVEST is the insurance industry's premier classroom-to-career education program.
"InVEST is pleased to announce that Dr. David Marlett has been selected by the Big 'I' executive committee for its board of directors as a representative from academia," said Robert G. Slocum, CPCU, CIC, InVEST board chair and president of The Slocum Agency, Inc., an independent agency in Warwick, Rhode Island. "David brings a wealth of experience and expertise to the InVEST leadership. We look forward to working with him and drawing from his expertise as our academic advisor."
Marlett served as chair of the Appalachian State University Walker College of Business Department of Finance, Banking and Insurance for eight years and holds the Independent Insurance Agents of North Carolina distinguished professorship. He is also currently a member of the Appalachian State University Athletics Council. Marlett was appointed by the Speaker of the North Carolina General Assembly to the Joint Select Study Committee on Potential Impact of Major Hurricane on the Insurance Industry in North Carolina. He also serves as an affiliated senior scholar with the Mercatus Center at George Mason University in Fairfax, Virginia. Previously, he completed an eight year term as editor for the CPCU eJournal and served as Brantley Risk and Insurance Center director. Prior to entering the doctoral program at Florida State University, he worked as a commercial lines underwriter for USF&G in Tampa. Marlett's doctoral dissertation was on residual markets and catastrophe financing programs and he has since been published more than 20 times in academic and peer-reviewed journals. He also earned a bachelor of science at Florida State University.
"InVEST is vitally important for the future of the independent agency system and the insurance industry as a whole," said Robert Rusbuldt, Independent Insurance Agents & Brokers of America President and CEO. "Educators, volunteers and independent agency leaders, like David Marlett, are key to the success of this program as it continues to grow and expand into more schools. We applaud and thank him for his commitment to this critical program."
Marlett replaces Larry Pistell, senior associate director at the Center for Professional Education at St. John's University's School of Risk Management in New York City, as the academic advisor on the InVEST board. Pistell has served on the InVEST board for the past ten years. During his tenure, Pistell provided research on aging insurance workforce issue, participated in "War for Talent" panels at InVEST workshops and helped form the relationship with Virtual Enterprises International to start using InVEST commercial lines resources in its student business simulation.
As a 501(c)(3) educational trust, InVEST benefits from the support of numerous insurance organizations, hundreds of agencies, brokers and volunteers. The program provides the insurance industry with motivated, talented and intelligent professionals through a support structure of state associations, board members, national staff, teachers and the many industry professionals who work in the field as classroom liaisons.
About InVEST
Founded in 1970 and based in Alexandria, Va., InVEST promotes insurance education in order to attract individuals to pursue a career in the insurance industry. Each year, the program prepares thousands of students for insurance-related careers with a hands-on curriculum taught in high schools, adult education centers and colleges. These courses provide students with a working knowledge of the basics needed to pursue careers in the insurance industry. For more information, go to www.investprogram.org.