Dr. David Marlett, a professor of risk management in the Walker College of Business, was Appalachian State University's nominee for Sun Belt Conference Faculty Member of the Year.
The annual award recognizes a faculty member from each Sun Belt institution who has a passion for teaching, engaging and inspiring students, while also separating themselves from their peers outside of the classroom by regularly supporting and displaying enthusiasm for student-athletes and the athletics department.
In addition to his teaching and research responsibilities, and his duties in managing the Brantley Risk & Insurance Center, Dr. Marlett has made a point to impact the lives of student-athletes on Appalachian's campus positively. Since 2021, Dr. Marlett has pushed forward an initiative to engage athletes in discussions around financial literacy as well as the ties between athletics and the insurance industry. Additionally, Dr. Marlett has served many student-athletes as a mentor and advisor as many student-athletes benefit from additional support in developing professional skills and seeking jobs and internships due to their demanding schedules.
Dr. Marlett holds the IIANC Distinguished Professorship and serves as Managing Director of the Brantley Risk and Insurance Center. He joined Appalachian State University in 2003 and has served as Department Chair for eight years and Faculty Director for the Wilson Scholars Program for two years. Marlett is on the Board of Directors for the Invest program and chaired the Loman Advisory Committee for the CPCU Society. Both are national organizations that focus on improving the financial literacy of young adults. Marlett has served on numerous College of Business and university committees, most notably the University Athletics Council for over a decade. He holds a B.S. in Risk Management and Insurance from Florida State University. He also holds a Ph.D. in Risk Management and Insurance from FSU.
About the Brantley Risk & Insurance Center
App State maintains the sixth largest insurance program nationally, and has been ranked second in the nation by AM Best, the world's largest credit rating agency specializing in the insurance industry. The Brantley Center enhances the academic experience by providing space and staff to assist students interested in the RMI program with networking, job placement and faculty engagement. It provides students opportunities for scholarship, international and domestic travel, and professional designation and licensing programs. The center brings industry leaders to classrooms, fosters research and faculty development, assists the insurance industry with continuing education programs and helps educate the public about the insurance industry. Learn more at https://insurance.appstate.edu.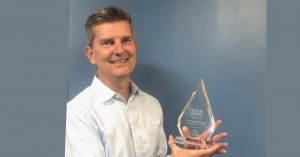 Tags: