WalletHub recently posted an article about balance transfer credit cards and cited expert advice from Appalachian State University finance professor Brandy Hadley.
Hadley is an assistant professor in the Department of Finance, Banking and Insurance in Appalachian's Walker College of Business.
According to the post, balance transfer cards have a lot of moving parts, including a balance transfer APR, balance transfer fee, annual fee and, potentially, introductory rates and fees.
When asked about finding the best balance transfer credit card, Hadley advises users to "do your research and compare multiple card options."
"Remember to consider the length of the balance transfer offer, the interest rates for transfers and new purchases during and after the introductory period, the transfer fee, and the annual fee," said Hadley. "It is important to have a repayment plan in place to take advantage of the balance transfer introductory offer. Often, if the balance transfer is not paid in full within the introductory period, deferred interest is added and this can be very costly."
"Credit cards are not a good source for long term funding needs," added Hadley. "Ideally, credit cards should be paid in full each month to avoid the costly interest and negative impacts to credit scores associated with carrying a balance."
Read the full article at wallethub.com.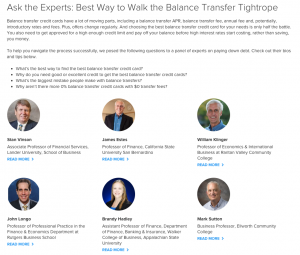 Tags: