Professor Austin Eggers, an assistant professor of finance and the 2022 Sywassink Awardee for Teaching Excellence, will serve as macebearer for this semester's Walker College of Business commencement ceremony.
The Mace
Traditionally, the mace is carried by a senior faculty member and precedes the chancellor, both upon entering and leaving a ceremony. The mace serves as a symbol of authority just as it did during the Middle Ages, when a macebearer accompanied an official taking office or opening court. The App State mace symbolizes the university's mountain heritage, the rustic location and the sophistication of an emerging, national leader in higher education. Learn more about the App State mace's design at appstate.edu/commencement.
Professor Austin Eggers
Austin Eggers first joined the faculty at Appalachian in 2015. He teaches business law and brings to the classroom a wealth of experience from his time as legal partner with Eggers, Eggers, Eggers & Eggers PLLC.
Eggers is a member of the North Carolina Bar Association and maintains a State of North Carolina Law License. He is an App State alumnus, having earned his bachelor's degree in political science. Eggers also earned a Masters of Divinity from Fuller Theological Seminary and a Juris Doctorate from North Carolina Central University.
Commencement Details
The Walker College's commencement ceremony will be held on Saturday, May 13 at 1:00 p.m. in the Holmes Convocation Center. Find additional details about the commencement ceremonies or the watch the ceremony livestreamed at appstate.edu/commencement.
Additionally, students from App State's MBA, MS in Accounting and MS in Applied Data Analytics programs are invited to participate in a Graduate Programs Hooding Ceremony on Friday, May 12. For information about the hooding ceremony, please contact Kim Kirby, kirbyko@appstate.edu.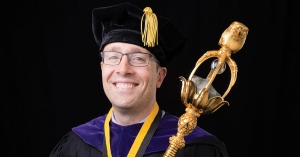 Tags: