Students of Appalachian State University's Walker Fellows organization recently hosted a first annual Walker College Service Day on April 25, 2016.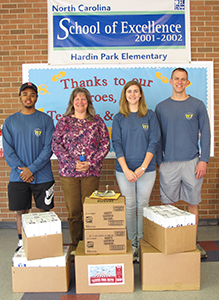 The event brought faculty, staff and students together in service to the local community through a week-long canned food drive culminating in the three-hour fundraising celebration. The effort brought in non-perishable food items and raised money to benefit the Hardin Park Elementary School Food Pantry and Snack Program. Traditionally, the program assists families in need throughout the school year, but in 2016 the program also provided assistance to 200 families in the community during the summer months, when some families have the highest need.
Walker College faculty and staff members signed on to be "dunked" in a tank of cold water, and students and peers traded canned food items and cash donations for chances to dunk their favorite professor or colleague. More than 60 faculty, staff and students from the Walker College of Business joined in the fun. Six faculty members were dunked, and ten Walker Fellow student volunteers staffed the event.
"We look forward to making this a legacy event for the future," said Amy Odom, associate director of the BB&T Student Leadership Center and co-advisor of Walker Fellows. "We're thankful to our Appalachian family for getting involved in this worthwhile effort, and we especially appreciate fellow student group Gamma Iota Sigma and corporate partner Snyder's- Lance for contributing to the effort."
The Walker Fellows serve as ambassadors and student representatives at various Walker College and University events. They interact with alumni, prospective students and business community leaders on a regular basis. Their involvement in the college also serves as a student "voice" to college administrators for business students.
2017 SERVICE WEEK
In 2017, the Walker College will expand faculty-student service opportunities during the second annual Walker College Service Week, planned for April 23-29. More than 20 student organizations housed in the college – including the Appalachian chapters of the American Marketing Association, DECA, Phi Beta Lambda (FBLA) – plan to participate.
To join in the initiative, contact Walker Fellow Vice President Emily Young, younger1@appstate.edu.