Five Walker College of Business student organizations received honors from Appalachian's Center for Student Involvement and Leadership during an April 15 awards event.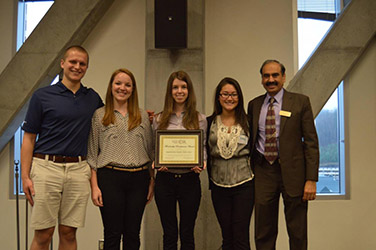 Appalachian Supply Chain Club and International Business Student Association (IBSA) earned Membership Development Awards. The award recognizes clubs that "more than serve" the needs of its members through speakers, workshops, retreats, conferences and other acts to continually educate its members.
Appalachian Supply Chain club representatives, pictured from left, Tyler Sawyer, Stacey Hall, Ashley Kirkland, and Ashley LaManna along with faculty advisor Supply Chain Management professor Dinesh Dave' accept a Membership Development Award.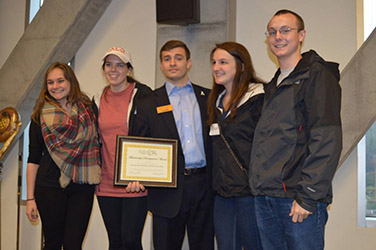 IBSA club representatives, pictured from left, Rachel Drye, Dawson Gould, Hathum Hamam, Allison DiCarlo and Jeffrey Burruss accept a Membership Development Award.
"I'm so proud of how much IBSA has grown in such a little time," said club president Hathum Hamam. "I look forward to helping expand the organization further, as we have a great student base that is growing rapidly."
The Walker Fellows, the student ambassadorial program for the Walker College of Business, earned an Outstanding Academic & Professional Organization Award. This award is given to organizations that have exemplified outstanding achievements and organizational development among their peer groups.
The Walker College of Business Transfer Student Association won Best New Student Organization for their work to enhance the ASU community. Only student organizations that were chartered during the last year are eligible for the award.
Accounting Professor Tracy Reed earned one of the two annual Outstanding Club Advisor Awards, for her work with Beta Alpha Psi, the international honorary organization for financial information students and professionals.
In this role, Reed has demonstrated dedication, availability, and energy with the student members. She recently led a group of club members to the Beta Alpha Psi Southeast Regional Meeting in Atlanta, GA.
More information about the awards can be found on the Center for Student Involvement and Leadership site.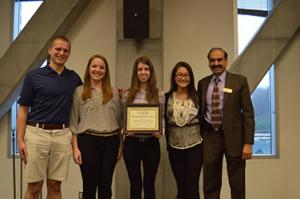 Tags: