Four Appalachian State University faculty members and one staff member in the Walker College of Business have received the college's 2016 Sywassink Award for Excellence.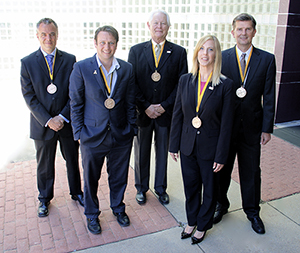 Sywassink Award winners from the Walker College of Business are Ash Morgan, left, Jeff Hobbs, Ric Mattar, Christy Cook and David Marlett. (Photo by Sabrina Cheves)
Dr. Jeff Hobbs received the award for excellence in teaching; Dr. Ash Morgan was honored for his research contributions; and the award for excellence in service was presented to Dr. David Marlett. Mr. Ric Mattar was honored as the outstanding non-tenure track faculty member and Ms. Christy Cook received the 2016 staff excellence award.
The awards are presented annually. Winners receive a monetary prize and a bronze medallion of the university seal. The awards are made possible by a contribution from G.A. Sywassink, CEO of Standard Holding Company of Charlotte, a former member of Appalachian's Board of Trustees and a current member of the UNC Board of Governors.
Jeff Hobbs
Dr. Jeff Hobbs, an associate professor in the Department of Finance, Banking and Insurance, received the award for excellence in teaching.
Hobbs, who joined the faculty at Appalachian in 2005, teaches courses in investments and financial derivatives.
He provides a unique learning environment and valuable classroom experiences. A student explained that "although his courses are difficult, he teaches in a way that challenges students. It is completely refreshing."
Hobbs earned his bachelor's degree from West Virginia University, and his master's degree and Ph.D. in finance from Virginia Tech.
Ash Morgan
Dr. Ash Morgan, an associate professor in the Department of Economics, was honored for his research contributions.
Morgan's research interests include health risk and food safety, consumer behavior, coastal resource management, non-market valuation and experimental economics. Much of his body of work is policy-based, providing stakeholders and end-users with empirical analyses for implementation in future policy decisions. He has published articles in many journals, including Land Economics, the Journal of Environmental Economics and Policy, the Journal of Ocean and Coastal Economics, Resource and Energy Economics, the Agricultural and Resource Economics Review, Environmental and Resource Economics, the Journal of Real Estate Finance and Economics, and Marine Resource Economics.
Morgan serves as assistant director for the Center for Economic Research and Policy Analysis at Appalachian, where he develops regional economic models to conduct economic impact analyses for a number of local, state and regional public and private entities. During his tenure at Appalachian, Morgan has generated more than $700,000 in grant funding to support his research with additional proposals under review.
Morgan earned his Ph.D. in Economics from the University of Delaware.
David Marlett
Dr. David Marlett, a professor in the Department of Finance, Banking and Insurance, was recognized for his extensive service endeavors.
Marlett has served as a committee member of the Walker College's strategic planning, sustainability events and outreach, and sustainability curriculum and research groups. He is a member of the Department of Finance, Banking and Insurance's personnel committee and of Appalachian's Athletic Council, Scholarship Advisory Council, and subcommittee for gender issues. Marlett also named faculty director for the Wilson Scholars program, Appalachian's premier scholarship and leadership program, in 2015.
"I have never met someone so committed to using their expertise to advance the lives of others," said a nominator. "His efforts are broad, ongoing, and have provided great value to the college, students, the local community, and the professional community."
Marlett serves on advisory boards for InVest, the Children's Hope Alliance, NC State University's Climate Change & Society Program, and the Loman Foundation Advisory Board - the premier insurance education program in North America. Marlett also serves on the editorial review board for the Journal of Insurance Regulation and served as Editor for the CPCU Journal. David has worked closely with state Legislators and the Department of Social Services to help resolve foster parent liability issues.
Related: Appalachian business professors help develop N.C.'s Foster Care Family Act
Marlett holds the Independent Insurance Agents of NC Insurance Professorship. He earned his bachelor's and Ph.D. in Risk Management and Insurance from Florida State University.
Ric Mattar
Mr. Richard "Ric" Mattar, an adjunct instructor in the Department of Finance, Banking and Insurance, was honored as the outstanding non-tenure track faculty member.
Mattar joined the faculty at Appalachian in 1987 and is a practicing attorney at law who brings hands-on experience to his classroom as well as a passion for delivering a high-quality learning experience.
"Ric cares deeply about the education and development of our students. He is frequently sought out by his students outside of class with questions about careers and their future, for personal and professional advice, and seeking letters of recommendation for jobs, graduate school or law school," said a nominator. "He always makes time to listen and talk to students, and gives extensively of his time and effort."
Mattar, who is a member of the Watauga County Planning Board and the First Baptist Church of Boone's business and finance committee, and a member of the North Carolina State Bar and the Watauga County Bar Association, was also recognized in 2011 for this teaching by Appalachian's Student Government Association.
He received his bachelor's degree in industrial engineering from North Carolina State University and his juris doctorate degree from the University of North Carolina - Chapel Hill.
Christy Cook
Ms. Christy M. Cook received the outstanding staff award, which honors staff members who exhibit dedication in service, innovation and workplace morale to Appalachian and the community.
Cook is executive assistant to the dean of the Walker College and previously served as Department of Marketing administrator
"She completely transformed the way our department conducts its business," said a nominator of Cook's time in the Department of Marketing. "She constantly thinks of ways to improve our work and our presence."
Cook has also served as program coordinator for the BB&T Student Leadership Center at Appalachian. Prior to her time at Appalachian, she was as an air traffic control specialist in the United States Air Force, controlling both civilian and military aircraft, where she earned several awards and achievement medals while honorably serving.
Cook earned a B.S. Degree in Professional Aeronautics and Administration from Embry-Riddle University and is pursuing a Graduate Certificate in Instructional Technology Facilitation.