The Department of Accounting operates a FREE TAX HELP LAB for Appalachian State University students, faculty and staff.
The Tax Help Lab closes April 12.
Get Started
The income tax returns will be efiled for free using TaxSlayer software, allowing you to electronically file state and/or federal returns at taxslayer.com.
This link is available to all App State employees, students, and alumni, but may also be shared with friends and family.
Get Onsite Help
If you need help, drop into the Tax Help Lab in Peacock Hall on Tuesday and Wednesday evenings from 5:00 -7:00 pm.
Free Tax Help Lab

Tuesdays and Wednesdays

5:00 - 7:00 p.m.

Peacock Hall Room 3014
The lab will be closed during Spring break and whenever the University closes due to weather.
IRS-trained volunteers can answer your tax questions and help you prepare and e-file your own federal and state income tax returns.
Participants should bring their 2022 documents (W-2s, 1099s, 1098-T, etc.) and have a bank routing and account number for refund direct deposit. For those new to TaxSlayer, please also bring a copy of your last tax return.
Questions
For more information, contact Zach Lachance, lachancezp@appstate.edu.
About Appalachian's Accounting Program
The Department of Accounting with Walker College has built a strong reputation for excellence in accounting education, and is highly regarded by accounting employers in North Carolina and throughout the Southeast. Accounting graduates are recruited by the largest international, national, and regional accounting firms as well as local accounting firms, industry and government agencies. The Department of Accounting offers the Bachelor of Science in Business Administration (B.S.B.A.) degree and the Master of Science (M.S.) degree in Accounting. The faculty and staff in the department are deeply committed to the success of our students. Learn more online, accounting.appstate.edu.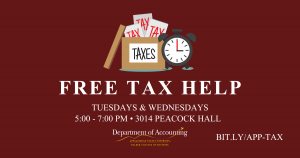 Tags: