Jake Stone is graduating from Appalachian State University with a Master of Business Administration concentrating in Leading and Managing Human Resources as well as a BSBA with a double major in Finance & Banking and Risk Management & Insurance and a minor in Employee Benefits.
At App State, Stone was a member of Delta Sigma Phi, the Finance Student Association and Gamma Iota Sigma. He also played intramural soccer. Stone says "there is something special going on in the High Country," and enjoys watching App State football as evidence. He named attending the App State vs South Carolina game in Columbia, SC as a favorite memory. "I love that App State is seen as an underdog, but anyone who has been in Boone knows we are far from such."
Stone listed three finance professors as most impactful to his Appalachian Experience.
Dr. Ivan Roten, for "constantly pushing his students to be the best version of themselves in everything they do."
Dr. Brandy Hadley, for her support and inspiring work ethic.
Dr. Jamie Parson, for career guidance and for inspiring his minor in employee benefits.
Next, Stone will work as a Corporate Bank Financial Analyst on Credit Suisse's Corporate Loan Portfolio Management Team.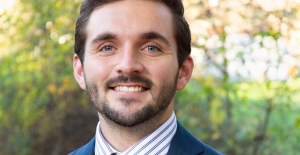 Tags: