Makayla Wilkins is graduating from Appalachian State University with a Master of Science in Applied Data Analytics.
At Appalachian, Wilkins served as executive director for Beans 2 Brew, the student-run, interdisciplinary coffee shop in Peacock Hall.
Wilkins named several professors and staff members in the Walker College of Business as most impactful on her Appalachian Experience, including:
Jeff Kaleta, an assistant professor of computer information systems, for incredible CIS and supply chain knowledge and an open door policy helped support her academically and personally.
Sara Figlow, entrepreneurship specialist, for business and general life advice.
Austin Eggers, an assistant professor of finance and banking, for his calming presence and his business law class.
Laura Brewer, a lecturer of marketing for her supply chain advice.
Wilkins also said that Erich Schlenker, Dinesh Dave, Edgar Hassler, and Chuck Ciaramita have influenced her trajectory. "App State is where I became a real adult and found the best friends and professors of my life. I will be a heavily involved alumni because I'm very proud of both of my programs of study.
Wilkins will next serve as a Transformation Consulting Associate with Grant Thornton in Charlotte, NC.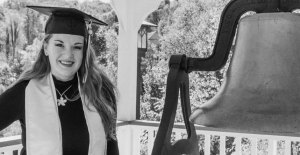 Tags: