More than 20 years ago, Appalachian began a partnership with Fudan University in China that became the William R. Holland Fellows for Business Study in Asia. Through the visioning of administrators and key community partners, including former Wachovia CEO and Appalachian advocate Bud Baker and former CEO of Dominion Industries and program namesake Bill Holland, the program has flourished through 20 delegations, and it is most commonly summarized by program alumni as "life-changing."
Each year, 12 students from each university work together to analyze business case studies in small groups via the Internet, then collaborate in person when the Fudan students travel to the United States for two weeks in the spring and again when the Appalachian students visit China near the end of the spring semester. The Holland Fellows develop a deep understanding of Chinese and American business practices, visit historical sites and cultural attractions, and experience international business through visits to state-owned enterprises and foreign joint ventures.
Perhaps most importantly, the students meet life-long friends and create international networks.
Holland Fellowship co-Director Jesse Pipes recently participated in an interview with two former Holland Fellows, Haley Holland and Ben Hinson, in Appalachian's Podcast studio for a discussion of the storied history of the Holland Fellows and the impact the program has had on their lives. Listen to the podcast.
For more information on the Holland Fellowship, visit hollandfellows.appstate.edu.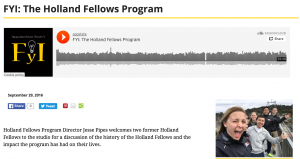 Tags: