Dr. Carol Kline, an associate professor of Hospitality and Tourism Management in Appalachian State University's Walker College of Business, has earned the Outstanding Woman in Travel Research award from Women in Travel and Tourism International (Witti).
"This is a huge honor for Dr. Kline and very much deserved," said Dr. Dana Clark, Appalachian's hospitality and tourism management program Director. "Her publishing record has been amazing!"
Witti aims to enhance the success of women in the travel and tourism industry through peer-to-peer networking, mentoring, lead sharing and giving back to the global travel community in meaningful ways.
About Appalachian's Hospitality & Tourism Management Program
The Bachelor of Science in Business Administration (BSBA) degree with a major in Hospitality and Tourism Management (HOS) may be obtained by completion of the Walker College of Business core courses, core required HOS courses and internship. The HOS major is intended for students who plan to seek careers in the hospitality or tourism industry. Learn more online, management.appstate.edu/academics.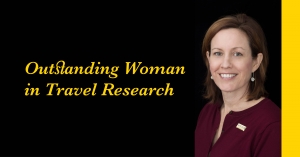 Tags: