Dr. Dana Clark, a professor of management at Appalachian State University, has earned a 2018 Winners Circle Award from Visit North Carolina for his dedication to the North Carolina tourism industry.
Clark directs the Hospitality and Tourism Management program in the Walker College of Business.
The Winners Circle Award originated in 2004 in an effort to recognize communities, organizations, events and people in the tourism industry that have made significant and continuing contributions to the growth and success of North Carolina's tourism industry.
The award is given annually, and is presented at the Visit NC 365 Conference on Tourism, the largest gathering of the state's tourism industry leaders.
"This is an impressive honor by itself," said Department of Management assistant chairperson Heather Dixon-Fowler. "However, it is truly amazing to consider that upon receiving this distinction, Dana has now won every single major award for hospitality and tourism in the state."
Related: Dana Clark receives Barentine Special Achievement Award
View past recipients on the visitnc.com site.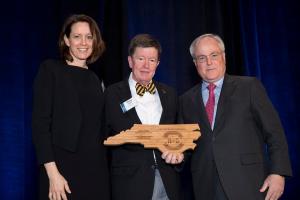 Tags: