Students at Appalachian State University's Walker College of Business are helping to document and plan SAVOR Blowing Rock, a community event scheduled for May 3-6, 2018 in Blowing Rock, NC.
The students are fermentation science, communications and marketing students as well as hospitality and tourism management majors participating in Carol Kline's craft beverage tourism course.
Pictured are student groups who are working to develop ideas and plans to help make SAVOR Blowing Rock a successful, three-day event.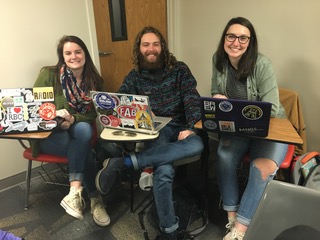 From left are management major Morgan Nystedt, fermentation science major Travis Slaughter and hospitality and tourism management major Taylor Randolph.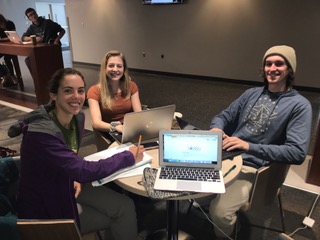 From left are Recreation Management major Jessica Bisner, hospitality and tourism management major Brooke Arrowood and management major Brock Suitt.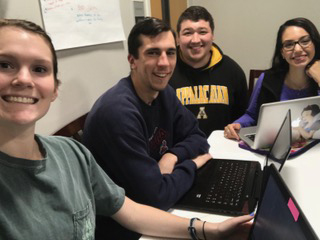 From left are marketing major Laura Arnson, hospitality and tourism management major Mark Beno, nutrition and foods - foodsystems management major Matt Beauchamp and hospitality and tourism management major Julia Coslian.
According to the event website, SAVOR Blowing Rock will offer demonstrations, seminars and events that feature regional culture, music, craft beers from local breweries and across the state, beverage tastings and dinners that showcase area culinary artistry.
The students are working with Blowing Rock Chamber of Commerce Chairman David Barker as well as Kline, a professor of tourism management in the Walker College of Business, on the effort.
"This year, the students are working to create a 'how-to' manual to document the steps involved in planning and executing the event," said Kline. "This will help planners have continuity from year to year."
University community members are especially invited to a May 4 Black and Gold Dinner, during which Barker hopes to announce a new scholarship for Appalachian students who work in Blowing Rock.
SAVOR Blowing Rock will feature a May 6 performance by popular national recording artist Jim Avett as part of Gospel, Grits & Gravy. Avett's performance is a commitment first envisioned by Kline's students to draw fellow Appalachian community members to attend. Kline's students will also be making recommendations on ways to improve the 2019 event.
Learn more about SAVOR Blowing Rock at savorblowingrock.com.
About the Hospitality Program
Appalachian State University's Hospitality and Tourism Management (BSBA) degree program prepares students for management and marketing careers in commercial food service companies, hotel and lodging properties, conference and resort centers, convention services, meeting and event planning, destination marketing and country club management. The program emphasizes industry connections and experience, and students learn from respected and engaged faculty members who have worked for major hospitality and tourism businesses and organizations. For more information, visit appstate.edu/academics/majors.
About Walker College of Business
The Walker College of Business at Appalachian State University delivers transformational educational experiences that prepare and inspire students to be ethical, innovative and engaged business leaders who positively impact our community, both locally and globally. The college places emphasis on international experiences, sustainable business practices, entrepreneurial programs, and real-world applications with industry. Enrolling nearly 3,000 undergraduates in 10 majors, and approximately 175 graduate students in Master of Business Administration, Master of Science in Accounting and Master of Science in Applied Data Analytics programs, the Walker College is consistently named one of "The Best Business Schools" by The Princeton Review and is accredited by AACSB International – the premier global accrediting body for schools of business. For more information, visit business.appstate.edu.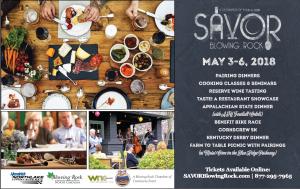 Tags: