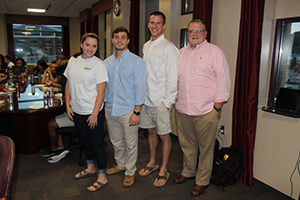 IBSA — On Wednesday, September 9, the International Business Student Association (IBSA) hosted a welcome reception for the exchange students in the Walker College of Business. IBSA is a club with the purpose of expanding student knowledge and awareness of global business and international issues. They serve as ambassadors of the Walker College of Business International Programs and International Business within the community of Appalachian.
At this reception, students were welcomed by Dr. Mezner, the Associate Dean for International Programs in the Walker COB, and Meredith Church, the International Programs Coordinator for the Walker COB. Lindsay Pepper, the Program Coordinator for OIED's International Student and Scholar Services and Outreach also came and shared about the resources available to students through OIED and the work she does with the 69 exchange students that have come to Appalachian to study this semester.
Walker College of Business is hosting more than 30 of these international exchange students. These students come from over ten different countries ranging from Nepal to Chile. There are about 50 students in IBSA that welcomed the exchange students to their reception with a big pizza dinner. After eating, IBSA representatives led everyone in a few ice-breakers so that the two groups could intermingle and connect.
For more information on IBSA, what they do, and how you can become a member, visit their website. You can check out pictures from this event here in our photo gallery.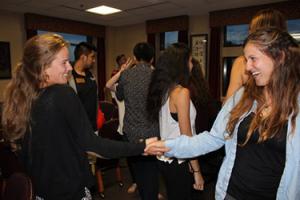 Tags: