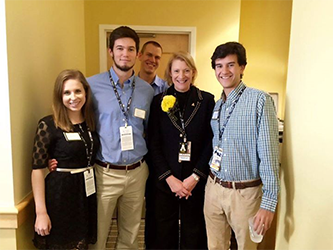 Students from Appalachian's International Business Student Association (IBSA) met with Chancellor Sheri Everts during Appalachian's Nov. 28 football game against Louisiana Lafayette. Chancellor Everts invited the students to the suite level of Kidd Brewer Stadium to recognize the students' involvement in the Zero Waste Stadium Clean-up and their efforts to promote sustainability in the Walker College of Business.
Pictured, from left, are sophomore Political Science major Emily Sheppard, freshman International Business major Gil Dyer, Junior International Business and Economics double major Jack Terrell, Appalachian State University Sheri Everts, and freshman Economics major Nick Williams.
The students participated in the clean-up efforts, sorting waste produced during the games into recycling, compost and landfill in order to reduce Appalachian's impact on the environment.
Zero waste initiatives reduce the university's impact on the environment, increase awareness of personal waste stream, reduce unnecessary and wasteful purchasing, increase recycling revenues while reducing landfill fees, increase effectiveness of waste handling and housekeeping processes and educate our students and community members in environmental stewardship.
IBSA is recruiting volunteers for each of the 6 home games this season; faculty, staff and students may volunteer online.
IBSA receives funding for their work. Proceeds will support study abroad scholarships.
Kidd Brewer Stadium has the infrastructure in place to support zero waste in the stadium, and through thoughtful purchasing decisions, reducing consumption and increasing recycling/composting, Appalachian is drastically reducing what is sent to the landfill.
Appalachian has committed to a 90% landfill diversion by 2022.
Tags: