By Harley Nefe
BOONE, N.C. – A GEAR UP Pitch Your Idea Competition took place at Appalachian State University on March 22, 2019. During the event, middle and high school students from Ashe, Watauga and Wilkes counties pitched their innovative business ideas to a panel of judges for a chance to earn scholarships to someday attend App State.
The event took place on Appalachian's campus, in the Reich College of Education and in the Greenbriar Theatre in Plemmons Student Union. Staff members from the Transportation Insight Center for Entrepreneurship were instrumental in coaching the students. Erich Schlenker, managing director of the center, also delivered a keynote address to the youth.
There were nine middle school teams and three high school teams competing.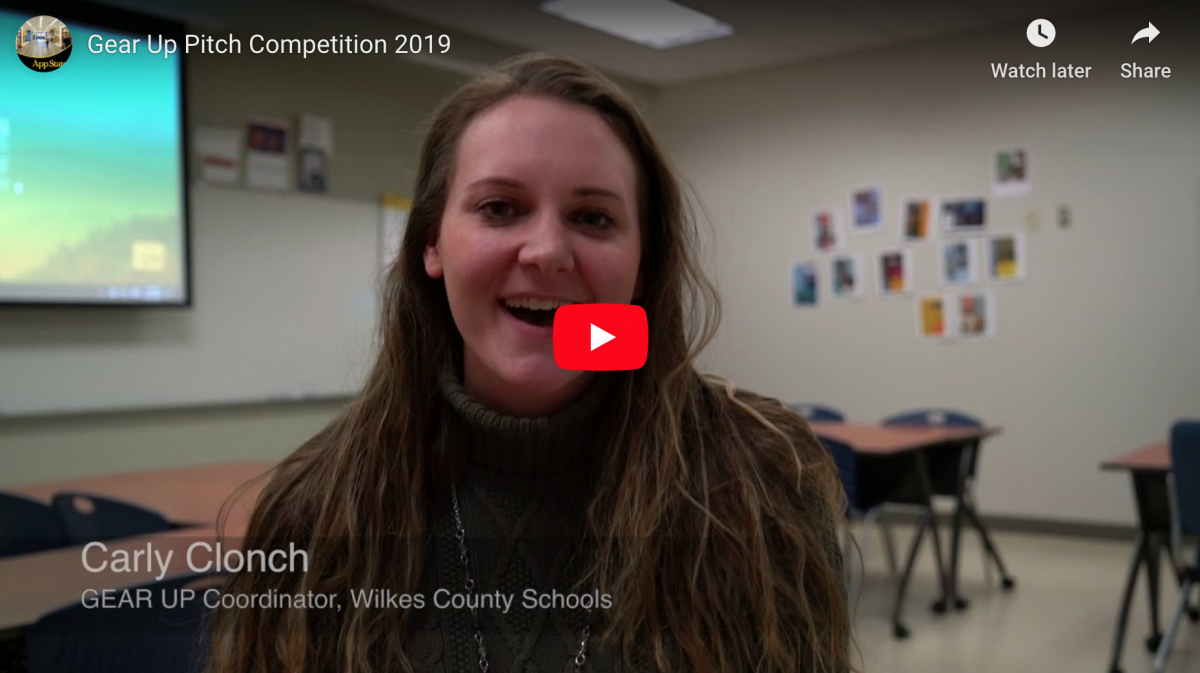 Event Agenda
9 a.m.-9:30 a.m. Teams arrive and check-in
9:30 a.m.-11:00 a.m. First round pitches (5 min. each)
11 a.m.-11:30 a.m. Tour of campus
11:45 a.m.-12:30 p.m. Lunch
12:40 p.m.-1:20 p.m. Finalist presentations
1:25 p.m.-2 p.m. Keynote presentation by Erich Schlenker
2 p.m.-2:15 p.m. Winners announced
Winning Ideas
1st place middle school: Ward Naturals created an essential oils business that has been selling products in his school. The oils can help with a variety of health issues as well as can have calming effects.
2nd place middle school: The Health Nut team created a smoothie company that sells healthy smoothies at a discount price at their school.
3rd place middle school: The Sunlight Soakers team created a solar portable cell phone charging battery. They have a working prototype and plans to grow this business in the future.
1st place high school: The High Country Feeders created a unique deer feeding system that is automated and feeds deer without the risk of losing feed to pests. They have a conceptual prototype and are working toward a final product.
2nd place high school: The Serenity Scents team has created a unique blend of essential oil lines that they are planning to sell online.
3rd place high school: The Walk Away Wallet team created a prototype device that connects a person's waller to their cell phone through a tracking device. No need for lost keys or wallets when you have a Walk Away Wallet device!
About the Transportation Insight Center for Entrepreneurship
About Appalachian's Transportation Insight Center for Entrepreneurship
The Transportation Insight Center for Entrepreneurship at Appalachian State University was founded in 2006 and is housed within the university's Walker College of Business. The center helps students, faculty, staff and alumni conceive, develop, incubate and launch new business ventures, turning their ideas into reality. In 2011, the center was rebranded to include Transportation Insight in its name to acknowledge a $1 million gift that enabled the center's renovation, as well as 10 years of funding. Transportation Insight is a nationally recognized third-party logistics (3PL) company specializing in supply chain management. Learn more at https://entrepreneurship.appstate.edu/.
About Walker College of Business
The Walker College of Business at Appalachian State University delivers transformational educational experiences that prepare and inspire students to be ethical, innovative and engaged business leaders who positively impact our community, both locally and globally. The college places emphasis on international experiences, sustainable business practices, entrepreneurial programs and real-world applications with industry. Enrolling approximately 3,000 undergraduates in 10 majors and 175 graduate students in three master's programs, the Walker College is accredited by AACSB International – the premier global accrediting body for schools of business. Learn more at https://business.appstate.edu.
About Appalachian State University
Appalachian State University, in North Carolina's Blue Ridge Mountains, prepares students to lead purposeful lives as global citizens who understand and engage their responsibilities in creating a sustainable future for all. The transformational Appalachian experience promotes a spirit of inclusion that brings people together in inspiring ways to acquire and create knowledge, to grow holistically, to act with passion and determination, and embrace diversity and difference. As one of 17 campuses in the University of North Carolina system, Appalachian enrolls more than 19,000 students, has a low student-to-faculty ratio and offers more than 150 undergraduate and graduate majors.
###