This summer, senior marketing major and 2016 Holland Fellow Samantha Bender hosted the official Instagram of Appalachian State University's Walker College of Business. Bender has shared images from her experiences in China as a Holland Fellow, as an intern at Su Fang International Commerce Center in Shanghai, and as an adventurer and traveler with deep respect for other cultures and individuals.
During her time posting for @walkercob, Bender has grown the followership of the fledgling Instagram account from 436 to 539... and counting.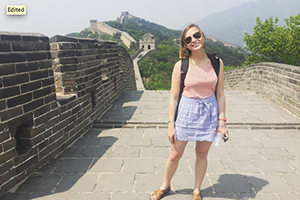 Bender, who also serves as social media administrator for Appalachian's campus coffee shops Wired Scholar and Crossroads (Instagram @wired_scholar), not only participated in the #WCOBstudenttakeover campaign, but also initiated a new Instagram campaign, #WCOBsummerspotlight, to learn how WCOB students and young alumni are spending their summer months. Through the summer spotlight, followers of @walkercob learned the whereabouts of several students and a few alumni.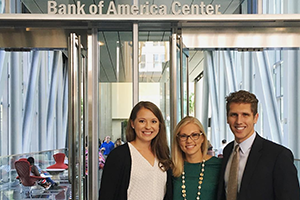 Finance majors Jewell (left) and Luke (right) are interning at Bank of America in Charlotte. Danielle (middle) is an alumna and BOA employee. The three, who were student ambassadors together, reunited this summer in Charlotte.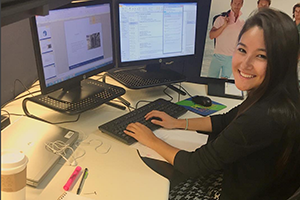 Senior supply chain management major Ashley interned at Ralph Lauren's corporate office in Greensboro. Ashley is president of Appalachian's Supply Chain Club.
Senior international business major Spenser is interning in India.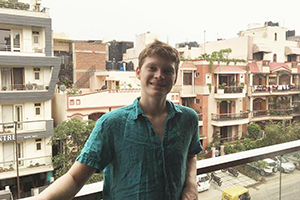 Several Walker Fellows are interning in Charlotte. From left, Benjamin (Bank of America), Kyle (Grant Thornton), Remington (BOA), Maheder (Ally Financial), and Hollie (BOA) met up in the Queen City.
Senior Risk Management and Insurance majors Vance and Ryan are working at Johnson & Johnson in Mt. Pleasant, SC.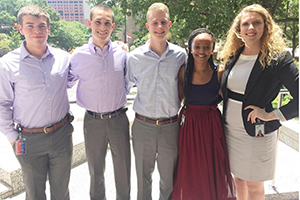 The #WCOBstudenttakeover campaign began fall 2015 as a means to showcase the experiences and perspectives of Walker College students and organizations. For information on how to participate, please contact Haley Childers, WCOB Communications Specialist, childershy@appstate.edu.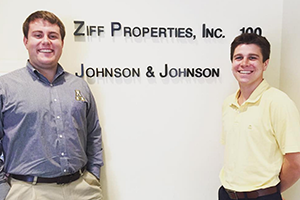 Follow the Walker College of Business (@walkercob) on Instagram to see more #WCOBsummerspotlight and #WCOBstudenttakeover photos.
Related: Marketing student chronicles internship abroad and shares experiences as a 2016 Holland Fellow in China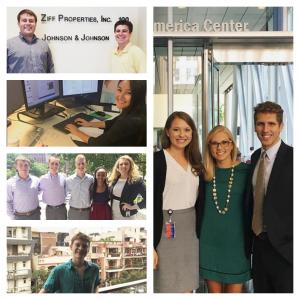 Tags: